Extreme Networks ExtremeSwitching SR2208P Switch

Cloud-based wired network extension switch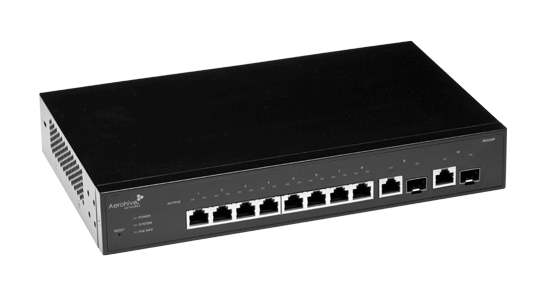 Sorry, this product is no longer available, please contact us for a replacement.
Click here to jump to more pricing!
Overview:
Enterprise Cloud-Managed Access Switches Providing Unified Wired and Wireless Access with Centralized Management and Visibility Across the Entire Network
The SR switches provide energy-efficient gigabit Layer 3-Lite capabilities with flexible Power over Ethernet (PoE), as well as a wealth of port density options. Critical capabilities, such as zero-touch provisioning and powerful QoS make these switches a complement to any enterprise network.
The SR2208P fanless desktop switch offers quick and easy wiring closet extensions, while the SR2224P, an entry level access switch, offers simple wiring closet expansion. The SR2324P and SR2348P provide premium bandwidth and port density access on the edge of the network and also feature stacking functionality.
Highlights
Cloud-Managed Switch Stacking
Combine multiple switches into a single configurable unit supported by granular device templates that can further ease the administrative burden of multi-switch management.
Management and Analytics with ExtremeCloud™ IQ
Automated deployments
Simplified network operations
Advanced reporting and network insights
Port and Power Options
8x to 48x Port Gigabit Ethernet
124W to 740W PoE+
Features:

Unified Network Management
A smarter cloud-enabled approach to network management that automates provisioning, simplifies configuration and support, and increases visibility. With unified access point, switching, and routing network policies, IT administrators can easily enforce end-to-end performance and security policies regardless of connection type or location.

Cloud-Enabled Switch Stacking
Simplify the entire process of configuring, monitoring and maintaining multiple switches with ExtremeCloud IQ's cloud-managed switch stacking capabilities. Combine multiple switches into a single configurable unit supported by granular device templates that can further ease the administrative burden of mult-switch management.

Cloud-Enabled CLI
GUI management or advanced CLI, your choice with the best of both worlds. With ExtremeCloud IQ's Cloud CLI functionality, administrators can instantly and centrally tap into advanced configuration and diagnostics tools without needing to leave the office or plug in a serial cable.
Specifications:
SR2208P
SR2224P
SR2324P
SR2348P
Downlink Ports
8 x 1 GE Ports
24 x 1 GE Ports
24 x 1 GE Ports
48 x 1 GE Ports
Uplink Ports
2x 1GE Dual Media (SFP and Copper)
4 x 1 GE SFP
4 x 10 GE SFP+
4 x 10 GE SFP+
PoE Budget
124W
180W
370W
740W
Switching Capacity
20 Gbps
56 Gbps
128 Gbps
176 Gbps
Stackinwg
No
No
Yes
Yes
L3 Static Routing
No
No
Yes
Yes
MTBF (Hours)
1,208,148
2,490,009
1,489,636
1,489,636
Dimensions (W x D x H)
279x170x44
440x240x44
440x240x44
440x350x44
Model Commonalities

Reset button to reset (on press) and load factory default settings
RJ45 serial console port
Downlink ports with 802.3af/802.3at PoE/PoE+ with legacy support
30 Watts max per port
16,000 MAC addresses
Jumbo Frames (9216 bytes)
4095 VLANs

Environmental

Operating temperature: 0 to +40 °C
Storage temperature: -25 to +70 °C
Humidity: 5% to 95% RH (non-condensing)
Acoustics: (for all 24 and 48 port models)
48 dB max (<25 °C)
53 dBA max (>25 °C at max fan speed)
8 port model is fanless and therefore quiet
Input voltage 100-240 Volts
Software Features:
Switching
Core Switching Features

IEEE 802.1AB—Link Layer Discovery Protocol (LLDP)
IEEE 802.1D—Spanning tree compatibility
IEEE 802.1p—Ethernet priority with user provisioning and mapping
IEEE 802.1s—Multiple spanning tree compatibility
IEEE 802.1Q—Virtual LANs with port-based VLANs
IEEE 802.1X—Port-based authentication with Guest VLAN support
IEEE 802.1W—Rapid spanning tree compatibility
IEEE 802.3—10BASE-T
IEEE 802.3u—100BASE-T
IEEE 802.3ab—1000BASE-T
IEEE 802.1ak—Virtual Bridged Local Area Networks - Amendment 07: Multiple Registration Protocol
IEEE 802.3ac—VLAN tagging
IEEE 802.3ad—Link aggregation
IEEE 802.3x —Flow control
Static Routing
GARP—Generic Attribute Registration Protocol: clause 12, IEEE 802.1D-2004
GMRP—Dynamic L2 multicast registration: clause 10, IEEE 802.1D2004
GVRP—Dynamic VLAN registration: clause 11.2, IEEE 802.1Q- 2003
RFC 4541—Considerations for Internet Group Management Protocol (IGMP) Snooping Switches
ANSI/TIA-1057—LLDP-Media Endpoint Discovery (MED)
RFC 5171—Unidirectional Link Detection (UDLD) Protocol

Advanced Layer-2 Features

Authentication, Authorization, and Accounting (AAA)
Broadcast Storm Recovery
Broadcast/Multicast/Unknown unicast storm recovery
DHCP Snooping
IGMP Snooping Querier
Multicast VLAN Registration (MVR)
Independent VLAN Learning (IVL) support
IPv6 Classification APIs
Jumbo Ethernet frame support
Port MAC locking
Port mirroring
Protected ports
Static MAC filtering
TACACS+
Voice VLANs
Unauthenticated VLAN
Internal 802.1X Authentication Server
CLI Filtering
Switchport mode configuration
Link Dependency
IPv6 RA Guard (Stateless)
Security
Permit/deny actions for inbound IP and Layer-2 traffic classification based on:
Time-Based ACL
Source/Destination IP address
TCP/UDP Source/Destination port
IP Protocol Type
Type of Service (ToS) or differentiated services (DSCP) field
Source/Destination MAC address
EtherType
IEEE 802.1p user priority (outer and/or inner VLAN tag)
VLAN ID (outer and/or inner VLAN tag)
RFC 1858—Security Considerations for IP Fragment Filtering
Optional ACL Rule Attributes
Assign flow to a specific Class of Service (CoS) queue
Redirect matching traffic flows
Management
HiveManager
Industry-standard CLI
IPv6 management
Password management
Autoinstall support for firmware images and configuration files
SNMP v1, v2, and v3
SSH 1.5 and 2.0
RFC 4252: SSH authentication protocol
RFC 4253: SSH transport layer protocol
RFC 4254: SSH connection protocol
RFC 4251: SSH protocol architecture
RFC 4716: SECSH public key file format
RFC 4419: Diffie-Hellman group exchange for the SSH transport layer protocol
SSL 3.0 and TLS 1.0
RFC 2246: The TLS protocol, version 1.0
RFC 2818: HTTP over TLS
RFC 3268: AES cipher suites for transport layer security
Secure Copy (SCP)
Telnet
Web
Advanced Management Features
Industry Standard CLI with the following features:
Scripting capability
Command completion
Context sensitive help
Optional user password encryption
Multi-session Telnet server
Systems Facilities
Event and error logging facility
Run-time and configuration download capability
PING utility
Xmodem
FTP Transfers via IPv4/IPv6
Malicious Code Detection
RFC 768—UDP
RFC 783—TFTP
RFC 791—IP
RFC 792—ICMP
RFC 793—TCP
RFC 826—ARP
RFC 894—Transmission of IP datagrams over Ethernet Networks
RFC 896—Congestion control in IP/TCP networks
RFC 951—BOOTP
RFC 1034—Domain names - concepts and facilities
RFC 1035—Domain names - implementation and specification
RFC 1321—Message digest algorithm
RFC 1534—Interoperability between BOOTP and DHCP
RFC 2021—Remote network monitoring management information base version 2
RFC 2030—Simple Network Time Protocol (SNTP)
RFC 2131—DHCP relay
RFC 2132—DHCP options and BOOTP vendor extensions
RFC 2819—Remote Network Monitoring Mgmt Information Base
RFC 2865—RADIUS client
RFC 2866—RADIUS accounting
RFC 2868—RADIUS attributes for tunnel protocol support
RFC 2869—RADIUS Extensions
RFC 3579—RADIUS support for EAP
RFC 3580—IEEE 802.1X RADIUS usage guidelines
RFC 3164—The BSD syslog protocol
RFC 3176—sFlow
RFC 3580—802.1X RADIUS Usage Guidelines
RFC 5176—Dynamic Authorization Server (Disconnect-Request processing only)
SNMP MIBs
Switching MIBs
IEEE 802.1X MIB (IEEE 802.1-PAE-MIB 2004 Revision)
IEEE 802.3AD MIB (IEEE 802.3-AD-MIB)
IANAifType-MIB
FASTPATH Enterprise MIBs for full configuration support of switching features
RFC 1213—MIB II
RFC 1493—Bridge MIB
RFC 1612—DNS resolver MIB extensions
RFC 1643—Definitions of managed objects for the Ethernet-like interface types
RFC 2233—Interfaces group MIB using SMI v2
RFC 2613—SMON MIB
RFC 2618—RADIUS authentication client MIB
RFC 2620—RADIUS accounting MIB
RFC 2674—VLAN MIB
RFC 2737—Entity MIB version 2
RFC 2819—RMON groups 1, 2, 3, and 9
RFC 2863—IF-MIB
RFC 2925—Definitions of Managed Objects for Remote Ping, Traceroute, and Lookup Operations
RFC 3273—RMON Groups 1, 2, and 3
RFC 3291—Textual conventions for Internet network addresses
RFC 3434—RMON Groups 1, 2, and 3
RFC 4022—TCP-MIB
RFC 4113—UDP-MIB
Quality of Service MIBs
MIBs for full configuration support of DiffServ, ACL, and CoS functionality
RFC 3289—Management information base for the DiffServ architecture (read-only)
Quality of Service
Classify traffic based on same criteria as ACLs and optionally:
Mark the IP DSCP or Precedence header fields
Police the flow to a specific rate with two-color aware support
RFC 2474—Definition of the differentiated services field (DS field) in the IPv4 and IPv6 headers
RFC 2475—An architecture for differentiated services
RFC 2597—Assured forwarding Per-Hop Behavior (PHB) group
RFC 2697—Single-rate policing
RFC 3246—An expedited forwarding PHB
RFC 3260—New terminology and clarifications for DiffServ
Class of Service (CoS) Queue Mapping Configuration
AutoVoIP – Automatic CoS settings for VoIP
IP DSCP-to-queue mapping
Configurable interface trust mode (IEEE 802.1p, DSCP, or untrusted)
Interface egress shaping rate
Strict priority versus weighted scheduling per queue
Pricing Notes:
Pricing and product availability subject to change without notice.
Extreme Networks Products
Accessories
SFP+ Direct Attach Cable - 7M / Passive
#AH-ACC-SFP-10G-DA7M
Our Price: $486.00