Extreme Networks Products ExtremeCloud™ IQ

Enterprise Network Management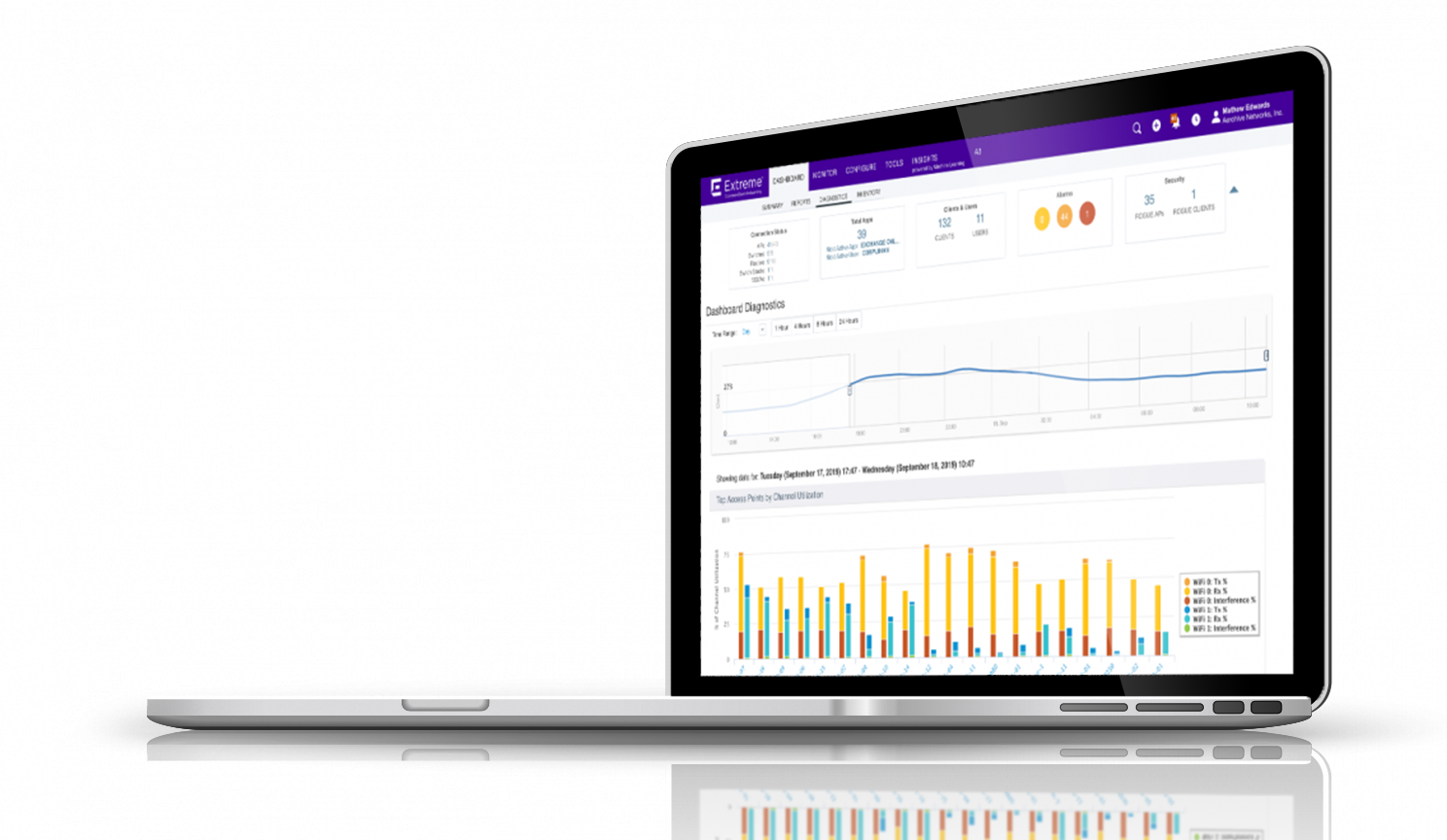 Extreme Networks Products ExtremeCloud™ IQ
Enterprise Network Management
ExtremeCloud™ IQ
Enterprise Network Management Offering Intuitive Configuration Workflows, Real-Time & Historical Monitoring, and Simplified Troubleshooting
Click here to jump to more pricing!
Overview:
Enterprise Network Management Offering Intuitive Configuration Workflows, Real-Time & Historical Monitoring, and Simplified Troubleshooting
ExtremeCloud™ IQ is an industry-leading and visionary approach to cloudmanaged networking, built from the ground up to take full advantage of Extreme's end-to-end networking solutions. ExtremeCloud™ IQ delivers unified, full-stack management of wireless access points, switches, and routers and enables onboarding, configuration, monitoring, troubleshooting, reporting, and more. Using innovative machine learning and artificial intelligence technologies, ExtremeCloud™ IQ analyzes and interprets millions of network and user data points, from the network edge to the data center, to power actionable business & IT insights, and deliver new levels of network automation and intelligence.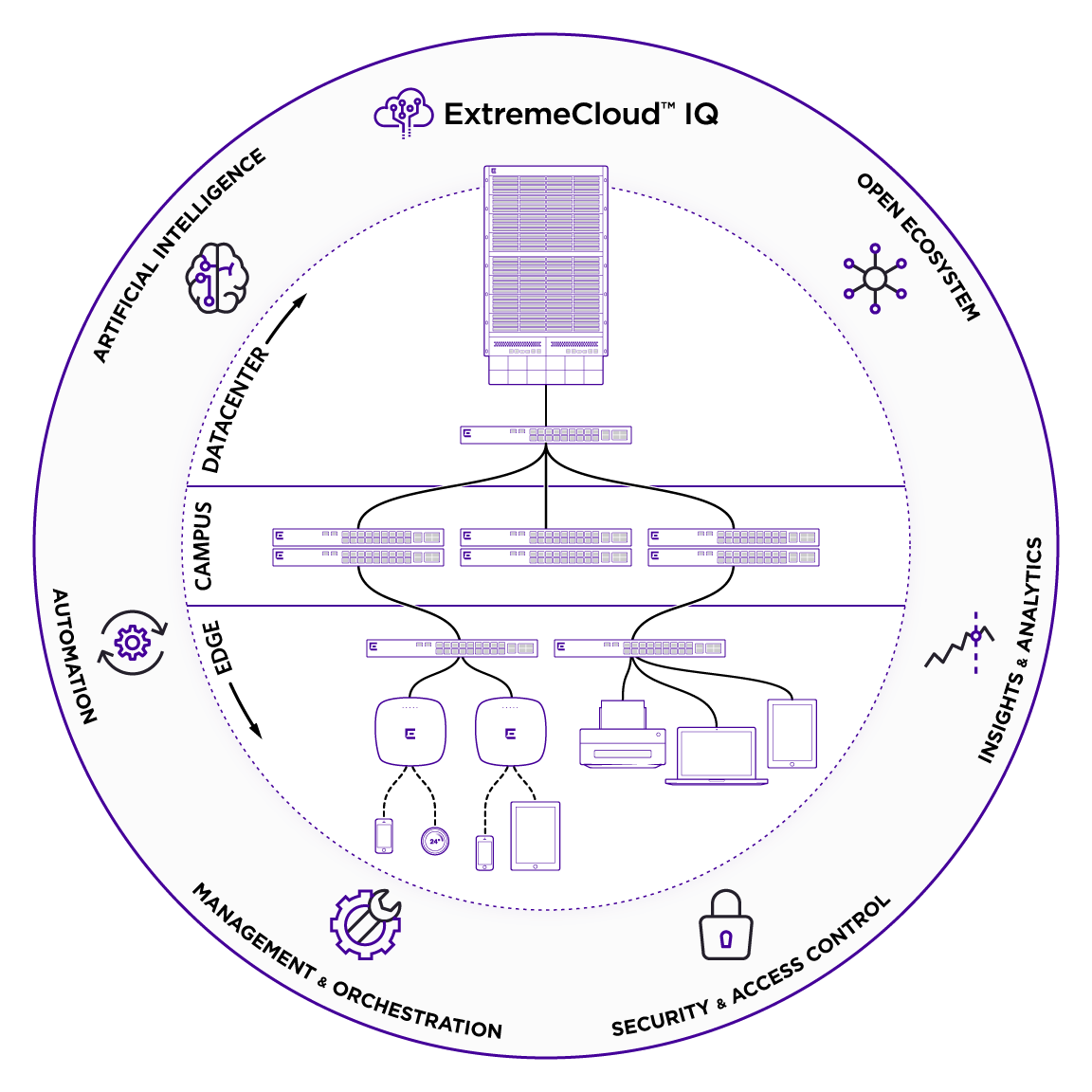 ExtremeCloud™ IQ operates on Extreme's third generation Cloud Services architecture, capable of supporting millions of infrastructure devices and hundreds of millions of clients per Regional Data Center. All Extreme Cloud Services components are hosted in secure SOC Type 1 data centers with 24/7 monitoring, scheduled backups, and build-in disaster recovery capabilities. The ExtremeCloud™ IQ offers rapid feature velocity, increased availability, and advanced flexibility desired for modern access network management.
Extreme Cloud Services also provides a full suite of cloud-optimized open APIs for developers to create 3rd party applications and user experiences including user onboarding mechanisms, proximity-based services, presence and location analytics, and more
Deployment options include Public Cloud, Private Cloud and a Local Cloud solution.
Deployment Choices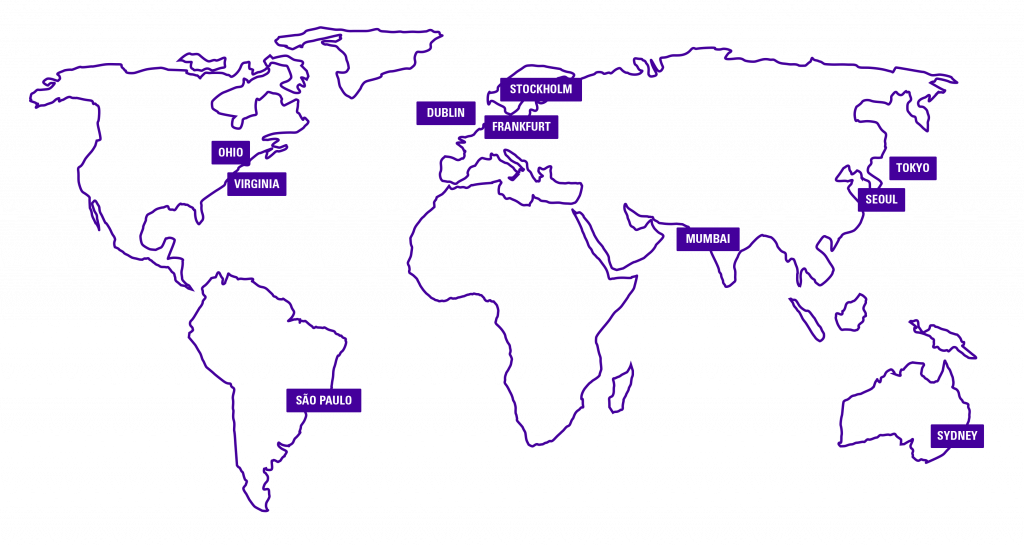 Different customers have different organizational needs. While many customers today opt for public cloud deployments with its many advantages, other customers may choose the Private Cloud, located on the customer or partner infrastructure.While still others choose onpremises deployments due to organizational or legal requirements. With one underlying cloud networking platform, the feature set is consistent across all deployment models, and customers can choose the option that works best for them without having to compromise on supported functionality.
Security & Operation
Accounts are password protected and accessed via secure SSL
Management traffic is encrypted and restricted using industry-proven CAPWAP protocol over HTTPS
Out-of-band operation ensures no customer data traverses Extreme's Cloud Services
Single-Sign-On (SSO) to ExtremeCloud™ IQ for administrator accounts
Multi-Factor authentication with Google Authenticator for administrator accounts
Multi-tenant architecture with secure account separation
Centralized monitoring and management
Integrated RBAC to delegate select ExtremeCloud™ IQ roles and permissions to different administrators
VAR and partner management capabilities including account provisioning and maintenance
ExtremeCloud™ IQ connectivity does not impact network operations servicing end-users
99.99999% uptime, excluding maintenance windows
Features:
Your Network Your Way
ExtremeCloud™ IQ is available in three deployment options that support one goal – to provide customers with maximum flexibility, continuous innovation, and consistent user experience. Choose to deploy ExtremeCloud™ IQ in any major data center environment such as AWS/GCP/Azure, or select something closer to home with local cloud options. It's your network, we believe you should have the freedom to deploy it your way.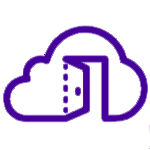 Public Cloud
Extreme's public cloud streamlines network operations with continuous updates, high availability, advanced machine learning analytics and insights, and anytime anywhere portal access.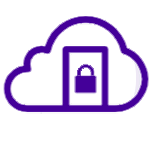 Private Cloud
Extreme's private cloud provides the same benefits as the public cloud solution but is deployed and maintained within your own datacenter. It is ideal for managed service providers and customers that have deployments with over 5,000 managed devices.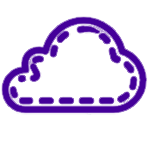 Local Cloud
Extreme's local cloud offers the same flexible architecture, but in a simplified and highly cost-efficient infrastructure deployed on-premises. This solution is ideal for small to mid-size organizations who want the power of the cloud, in addition, to complete control over their local deployment.
Auto-Provisioning: With zero-touch deployment, automatically apply configuration policies
Dashboard: Intuitive, visual dashboard with contextual filters for a comprehensive overview of network assets
Comparative Analytics: Anonymously compare operational and performancebased metrics to those of other organizations of a similar size and vertical.
Application Visibility and Control: Visibility and control of application usage for professional and recreational applications and network services.
Simplified Management: Guided workflows for creating and deploying network policies, with optional advanced configuration.
Full Stack Management: Native Cloud Management of Wi-Fi, Switching, and SD-WAN.
Network Health: Real-time and historical view of client and device health with built-in remediation tools
Product Specifications:
Simplified Deployment
Customer self-service sign-up
Guided workflow for network policy deployment
On-screen step-by-step guided configuration
RF planner with map import and export
Design with simulated APs on RF Planner map, then seamlessly swap these for real APs when deployed
Devices automatically connect to ExtremeCloud™ IQ for provisioning
Devices auto-provision with network policy and firmware udpates
Centralized Configuration
Guest Access functionality
Device templates for switches, routers and APs
Act as RADIUS server or RADIUS proxy, and as DHCP server
Centralized view of all configuration objects
Ability to bulk edit device properties
Ability to schedule firmware upgrade
Command Line Interface (CLI) access to Extreme devices
Active directory/LDAP
IPv6 support
Syslog and SNMP server configuration
Auto-provisioning
Configuration audit, backup, restore, import and export
Support for Extreme VPN gateway (VG-VA)
Multi-tenant capability: supports multiple virtual organizations
Centralized Policy Management
Device classification by location & timezone
Customer application definition
Client classificaion by location, OS type, MAC address
Multiple user profiles for each SSID
Time-based firewall and QoS policy
Application, network and MAC layer firewall policy rules
WIPS policy for rogue AP detection and mitigation
Security and Privacy
Role-based access control
Customer and network data is private and secure
No customer data traverses Extreme Cloud network
SSO for ExtremeCloud™ IQ administrators via SAML
Optional multi-factor authentication with Google Authenticator for administrators
EU General Data Protection Regulation (GDPR) features including:

Search for, download and delete personal data for specific users
Creation of reports to document the above actions
Dashboard
Graphical widgets and status cards with drill-down capabilites
Time-range slider on dashboard for historical view
360° views of Extreme network policies, AP, client devices, users and apps
Global search function by network policy, MAC address, serial number, user, hostname or application name
30-days of historic monitoring and reporting data
Interactive Network Summary Report with easy sharing
Savable contextual filters by location, SSID, policy, user, profile and client OS type
Comparitive Analytics to anonmously compare operational and performance metrics against other cloud customers of a similar size and industry
Guest Access
Onboarding and management of visitor and employee personal devices (BYOD)
Provides multiple onboarding workflows via Captive Web Portal, Kiosk app and Guest Check-In applications
Private PSK (PPSK), 802.1X (RADIUS) and PSK authentication
Supports 3rd party and customized CWPs including HTML upload for added deployment flexibility
Troubleshooting
Client 360° behavioral analysis; real-time and historical network performance monitoring and optimization
Help-desk optimized interface with problem summary and suggested remedy
Dedicated Helpdesk user role
Real-time troubleshooting with probe messages and stage filters
Historical troubleshooting with automatic issue detection
Mark issue resolved or escalate issue with email notification
Built-in Command Line Interface (CLI) and remote SSH
RADIUS test
AP technical data download
VLAN probe tool for simplified troubleshooting of the wired network
Optional packet capture analysis with partner solution (CloudShark)
Monitor
WIPS history report
Drill-down capability from client list to client 360° view
Device list with rich utilities for advanced configuration and investigation
Real-time client list with SNR, RSSI, data usage and connection status
Savable and reusable filters shared across dashboard and monitor
Alarm and event lists with historical and real-time data
PCI DSS 3.2 compliant reporting
Rogue AP and rogue client monitoring
Real-time data for connection clients and users
Google Maps integration and navigation with floorplan upload capability
Supported Languages
English, German, Spanish, French, Italian, Japanese, Korean, Portugese, Chinese
Reliability
Data centers with SOC Type 1 compliance (formally SAS 70 and/or SSAE 16), Type 2 and 3 compliance
High availability with disaster recovery and redundancy
99.99999% Uptime SLA (excluding maintainance windows)
Scheduled backups
24x7 monitoring
Pricing Notes:
Pricing and product availability subject to change without notice.
Enterprise Network Management
ExtremeCloud™ IQ
Enterprise Network Management Offering Intuitive Configuration Workflows, Real-Time & Historical Monitoring, and Simplified Troubleshooting