Extreme Networks ExtremeRouting VPN Gateway Virtual Appliance (VGVA)

VMware-based VPN Tunnel Termination
Extreme Networks Products
ExtremeRouting VPN Gateway Virtual Appliance
Extreme Networks VPN Gateway Virtual Appliance
#AH-VG-VA
Our Price: $3,599.00
Click here to jump to more pricing!
Overview:
The VPN Gateway Virtual Appliance (VGVA) is designed to simplify VPN and GRE termination, and is a key component of Extreme's branch solution. As a software-based VMware-compliant solution, the VGVA provides scalable enterprise-class VPN termination for thousands of layer 2/3 VPN tunnels from remote access locations.
Underpinned by ExtremeCloud IQ management and software-defined device intelligence, highly distributed organizations benefit from simplified provisioning, increased network resilience, end-to-end visibility and control, and reduced cost and complexity.
Highlights
Management and Analytics with ExtremeCloud IQ

Simplified network operations
Link state visibility monitoring
Advanced reporting and network insights

Secure Network Access

Layer 2-7 policy enforcement
Identify, prioritize, and restrict traffic flows

Dynamic Path Selection

User and application flow control
Link state monitoring
Multi-path optimization
Features:

Reduce operational costs and Inrease Performance
Combined with the Extreme Branch Routers, dynamic path selection distributes packets across multiple connections in real-time, based on current link metrics including RTT, jitter and link utilization. More than simply providing link redundancy, it ensures traffic is passed over the most optimal path at all times. This provides a platform for dramatic cost savings where dedicated MPLS links can be swapped in favour more affordable broadband lines.
---
Contextualized Security and Performance Optimization
IT can easily assign forwarding policies by application, user group, client OS, client Mac address, client location, and schedules. This allows corporate headquarters' network usage and security policies to be consistency enforced on every device, wired or wireless, regardless of their location.

---

Cloud-Managed Assurance, Intelligence, and Simplicity
Managed by ExtremeCloud IQ, this virtual gateway can be quickly and easily provisioned with advanced configurations, deliver granular user, device, and application reporting, and be supported from any location in minutes.
Deployment Options:
Option 1 – General Purpose VMWARE ESXi Platform
Memory: 32+ GB (3 GB for VM)
CPU: Intel Xeon Processor E5 v3 or later
Ethernet NICs: 1 or 2
VMware Verion: ESXi 6.5 or later
Hard Disk Size: 256+ GB (256MB for VM)
VGVA version: 6.9r7 or later
Up to 1000 tunnels
Max throughput - 1 Gbps
Option 2 – Extreme Networks 4120C
Private RDC solution only
Up to 4 VGVAs installed
Max number of tunnels per VGVA - 50,000, per system - 200,000
Max throughput per VGVA - 2 Gbps, per system - 8 Gbps
Professional Services recommended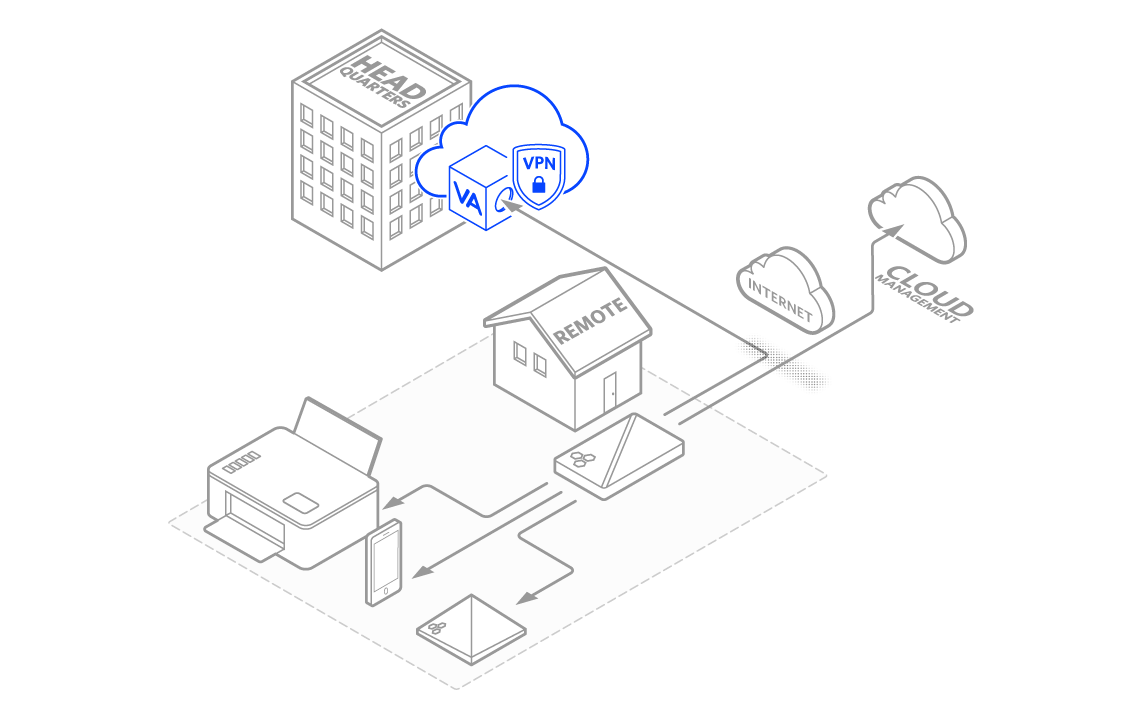 Specifications:
Layer 3 IPsec VPN (When combined with Extreme router(s))
Remote office IPsec-based VPN solution
Extend local subnet or create unique subnets per remote site
Redundant tunnel support
Per packet dynamic WAN path selection
User and application aware routing policies
Layer 2 IPsec VPN (When combined with Extreme AP(s))
Remote AP IPsec-based VPN solution
Redundant tunnel support
Layer 2 GRE Tunnel (When combined with Extreme Aps)
Identity-based traffic tunneling" of all guest traffic
Redundant tunnel support
Routing Protocols
Pricing Notes:
Pricing and product availability subject to change without notice.
Extreme Networks Products
ExtremeRouting VPN Gateway Virtual Appliance
Extreme Networks VPN Gateway Virtual Appliance
#AH-VG-VA
Our Price: $3,599.00