Summit X440 Series

Intelligent, Cost-Effective Edge Switching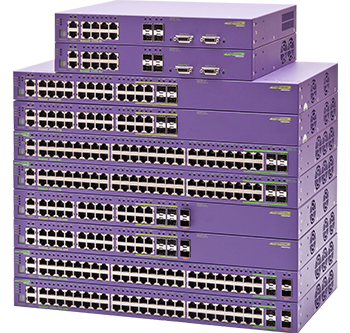 Sorry, this product is no longer available, please contact us for a replacement.
Overview:
The Extreme Networks Summit X440 series switches extend the intelligence and resiliency of the ExtremeXOS® network operating system to the converged access edge, enabling fine grained Quality of Service (QoS), stacking, high availability features and identity aware security in a compact, cost effective switch.
Standards-based PoE/PoE+ support (802.3af / 802.3at) allows the Summit X440 series to support the large-scale rollout of converged network devices such as IP telephones, wireless access points as well as physical security devices such as video cameras.
With high density, low latency, line rate 10/100/1000 Ethernet, dedicated 10 Gbps stacking ports, available redundant power supplies, hardware-based IP support (IPv4 and IPv6) and rich Layer 2 to Layer 4 functionality in a compact, 1RU form factor, the Summit X440 also provides effective enterprise class network access.
Highlights
Powered by the same robust, modular operating system as our BlackDiamond X8 and other Summit switches, the Summit X440 utilizes the benefits of the ExtremeXOS operating system in an intelligent, affordable access edge. The Summit X440 series switches provide redundant power supplies, SummitStack capability, comprehensive security features and high performance switching in a cost effective, small access switch.
Key Features
PoE/PoE+ for wireless access points, cameras and IP phones
Extending Intelligent 10/100/1000
BASE-T connectivity to the desktop
Line rate on all ports including 2 x 10GBASE-X SFP+ uplinks
BASE-X SFP based fiber switches, for long distance links.
Stack using SummitStack ports or SummitStack-V over 10GBASE-X SFP+ ports
Stack up to 8 members (Using L3 models)
Stack with other Summit products from Extreme Networks
Fan can switch to low speed or off for minimal noise
Edge switching for both AC and DC powered environments
Features:
The Summit X440 Series extends the intelligence, insight and control of Extreme Networks XOS to the access edge in a compact, cost-effective series of stackable switches.
ExtremeXOS Operating System – robust, modular operating system helps ensure uptime with process isolation, monitoring, and automatic restart
QoS – advanced traffic management helps ensure quality of experience for converged applications
AVB – enables realtime HD/time-sensitive audio/video streams over Ethernet with assigned QoS
PoE/PoE+ – connect and power Wi-Fi access points, cameras, and IP phones
Comprehensive Security – identity-aware security allows fine-grained insight and control
SummitStack™ – reduces management overhead by combining multiple switches into a single logical unit
Redundant Power – available redundant power supply contributes to better reliability
Benefits:
High Availability
Modular ExtremeXOS operating system
Ethernet Automatic Protection Switching (EAPS) resiliency protocol
SummitStack™ – highly available, high-speed stacking support
External power supply for redundant power
High Performance
High bandwidth, non-blocking architecture
Quality of Service (QoS) with advanced traffic management capabilities
Automatic provisioning via Universal Port capability
Comprehensive network management functionality
8, 24, or 48-port Gigabit Ethernet (GbE) connectivity in a 1RU form factor
SummitStack 40Gbps
10 Gigabit Ethernet (10GbE) uplinks
Comprehensive Security Features
Identity-aware policy and host integrity enforcement
Extensive MAC and IP security functionality to help prevent man-in-the-middle attacks
Universal Port dynamic security profile to provide fine granular security policy in the network
Multiple network edge authentication support with multiple end-points per port
Software Defined Networking (SDN)
ExtremeXOS implementations of OpenFlow APIs allow an external OpenFlow-based SDN controller to access and control the forwarding plane of ExtremeXOS network devices. ExtremeXOS-based switches offer a programming interface through OpenFlow to enable a high degree of automation in provisioning network services for many upper layer business-critical applications running the OpenFlow-based SDN controller. ExtremeXOS-based switches also allow for integration with the OpenStack open source cloud computing platform for public and private clouds through the Extreme Networks Quantum plugin. The plugin provides a scalable, automated, rich API-driven system that enables networking-as-a-service model managing data center interconnect solutions and large multi-tenant networks.
Audio Video Bridging (AVB)
ExtremeXOS supports IEEE Audio Video Bridging (AVB) standards to enable reliable real-time audio and video transmissions over Ethernet, for high-definition and timesensitive multimedia streams with assigned Quality of Service (QoS). ExtremeXOS leverages AVB to identify and reserve network resources for A/V traffic streams and supports synchronous streaming capabilities to ensure reliable and high-quality A/V transmissions over Ethernet. AVB also enables time sensitive multimedia streams to be sent over the Ethernet network with low latency and provides service quality for high definition information and entertainment applications.
IEEE 802.3at PoE-plus
Summit X440 PoE+ models support both IEEE 802.3at PoEplus and IEEE. 802.3af PoE. Summit X440 models that support PoE-plus provide a cumulative total 170 watt or 380 watt power budget, which can be allocated across all of the RJ45 ports on that particular switch.
Stacking
Each of the Summit X440 models with two SummitStack stacking ports, provide a 40 Gigabit stacking solution. This stacking capability offers compatibility with other Extreme Networks stackable switches, including the Summit X250e, Summit X450a/e, Summit X460 with SummitStack module, Summit X480 with VIM2-SummitStack, and Summit X650 with VIM1-SummitStack or VIM1-10G8X – allowing up to eight units in a stack.
The Summit X440 models with two 10 Gigabit Ethernet (10GbE) links can also stack using SummitStack-V alternative stacking. This stacking method also offers compatibility with other Extreme Networks stackable switches that use 10GbE ports for SummitStack-V including Summit X450e, X450a, X460, X480, X650, X670 and X770V.
The SummitStack stacking architecture is designed for rapid failover capability with n-1 master redundancy, distributed Layer 2 and Layer 3 switching, link aggregation across the stack, and 50 millisecond failover in most cases for path failure and hitless master/backup failover.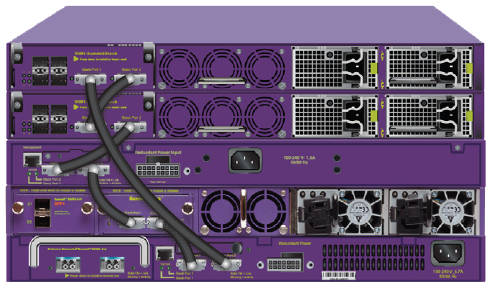 Single management point for up to eight units
High-speed 40 Gbps stacking
Rapid Failover for converged applications
Can mix Summit X250e, Summit X440 Series, Summit X450a/e,- Series, Summit X460, Summit X480, Summit X650 and Summit X670 Series switches for SummitStack™ 40 Gbps stacking
Specifications:
Performance
Switch Model
Aggregated Switch Bandwidth
Frame Forwarding Rate
Summit X440-8t
64 Gbps
48 Mpps
Summit X440-8p
64 Gbps
48 Mpps
Summit X440-24t
88 Gbps
65 Mpps
Summit X440-24p
88 Gbps
65 Mpps
Summit X440-48t
136 Gbps
101 Mpps
Summit X440-48p
136 Gbps
101 Mpps
Summit X440-24t-10G
88 Gbps
65 Mpps
Summit X440-24p-10G
88 Gbps
65 Mpps
Summit X440-48t-10G
136 Gbps
101 Mpps
Summit X440-48p-10G
136 Gbps
101 Mpps
Additional Performance Specifications
Latency: <5 µs (64-byte)
Max Packet Size: 12KB (Jumbo Frame Support)
Total Trunks: 128 load sharing, members per trunk: 8
VLANs: 4,094
Ingress ACLs: 1,024

Forwarding Tables

Layer 2/MAC Addresses: 16K
Layer 2/Multicast Groups: 1K
Pv4 LPM Entries: 32
IPv6 LPM Entries: 16
IPv4 Host Addresses: 509
IPv6 Host Addresses: 256
Layer 3 Interfaces: 256
IP Multicast Groups: 64

CPU, Memory

Single Core CPU, 500 Mhz clock
512MB ECC DRAM
512MB Compact Flash

QoS, Rate Limiting

Ingress bandwidth meters: 1,024
Ingress metering granularity: 8 Kbps
Ingress bandwidth policing/rate limiting per flow/ACL
Egress QoS queues/port: 8
Egress bandwidth rate shaping per egress queue and per port
Egress rate granularity: 64 Kbps

LED Indicators

Per port status LED including power status
System Status LEDs: management, fan and power

Operating Conditions Temperature Range

0° C to 45° C (32° F to 113° F)
Humidity: 10% to 95% relative humidity, non-condensing
Altitude: 0 to 3,000 meters (9,850 feet)
Shock (half sine): 30 m/s2 (3 G), 11 ms, 60 shocks
Random vibration: 3 to 500 Hz
at 1.5 G rms

Storage & Transportation Conditions (Packaged)

Transportation Temperature: -40° C to 70° C (-40° F to 158° F)
Storage and Transportation Humidity: 10% to 95% RH, non-condensing
Packaged Shock (Half Sine): 180 m/s2 (18 G), 6ms, 600 shocks
Packaged Sine Vibration: 5-62 Hz @ Velocity 5mm/s, 62-500 Hz @ 0.2G
Packaged Random Vibration: 5-20 Hz @ 1.0 ASD w/-3dB/ oct. from 20-200 Hz
14 drops min on sides & corners @ 42" (<15kg box)

IEEE 802.3 Media Access Standards

IEEE 802.3ab 1000BASE-T
IEEE 802.3z 1000BASE-X
IEEE 802.3at PoE Plus

EMI/EMC Standards

FCC CFR 47 part 15 Class A (USA)
ICES-003 Class A (Canada)
2004/108/EC EMC Directive
EN 55022:2010 Class A (Emissions for ITE Equipment)
EN 55024:2010 Class A includes EN 61000-4-2, 3, 4, 5, 6, 11
EN 55011 :2009+A1:2010 (Emissions for Industrial, Scientific & Medical Radio Frequency Equipment)
EN 61000-3-2: 2006+A2 2009 (Harmonics)
EN 61000-3-3:2008 (Flicker)
EN 61000-6-4: 2007+A1: 2011 (General Emissions for Industrial, Scientific & Medical)
EN 61000-6-2:2005 (General Immunity for Industrial, Scientific & Medical)
EN 50121-4:2006 (Emission and immunity of the signaling and telecommunications apparatus)

International EMC Standards

CISPR 22:2008 Class A (International Emissions for ITE Equipment)
CISPR 24:2010 Class A (International Immunity for ITE Equipment)
IEC 61000-4-2:2008/EN 61000-4-2:2009 (Electrostatic Discharge, 8kV Contact, 15kV Air, Criteria A)
IEC 61000-4-3:2010/EN 61000-4-3:2006+A12008 +A2:2010
Radiated Immunity 20V/m, 80-960MHz, Criteria A
Radiated Immunity 10V/m, 960-2100MHz, Criteria A
Radiated Immunity 5V/m, 2100-2700MHz, Criteria A
IEC 61000-4-4:2011/EN 61000-4-4: 2004+A1: 2010 Transient Burst
Power AC, ± 2.0kV, Criteria A
Power DC, ± 2.0kV CM, 1kV DM, Criteria A
I/O Cables, ± 2.0kV for all I/O longer than 3m
IEC 61000-4-5:2005/EN 61000-4-5:2006 Surge, Test to 2/4kV, Level 3
AC Power, 1/2kV , Criteria A
DC Power 1kV DM, 2kV CM, Criteria A
I/O 1kV L-G, Criteria A
IEC 61000-4-6:2008/EN 61000-4-6:2009 Conducted Immunity, 0.15-80 MHz, 10V/m unmod. RMS, Criteria A
IEC 61000-4-8:2009/EN 61000-4-8:2010 Magnetic Immunity, Not applicable to Extreme's equipment
IEC 61000-4-11:2004/EN 61000-4-11:2004 Power Dips& Interruptions, >30%, 25 periods, Criteria C
VCCI Class A (Japan Emissions)
ACMA (C-Tick) (Australia Emissions)
CCC Mark
KCC Mark, EMC Approval (Korea)

Telecom Standards

ETSI EN 300 386: V1.5.1 (2010-10) EMC Telecommunications
ETSI EN 300 019 (Environmental for Telecommunications)
MEF 9 compliant
MEF 14 compliant
External Ports
Switch Model
Ports
Summit X440-8t

8 x 10/100/1000BASE-T (RJ45) ports
4 x 100/1000BASE-X (SFP) unpopulated ports
2 x SummitStack
1 x Serial (console port)
1 x 10/100BASE-T out-of-band management port

Summit X440-8p

8 x 10/100/1000BASE-T PoE-plus(RJ45) ports
4 x 100/1000BASE-X (SFP) unpopulated ports
2 x SummitStack
1 x Serial (console port)
1 x 10/100BASE-T out-of-band management port

Summit X440-24t

24 x 10/100/1000BASE-T (RJ45) – 4 ports are combo ports
4 x 100/1000BASE-X (SFP) unpopulated combo ports
2 x SummitStack
1 x Serial (console port)
1 x 10/100BASE-T out-of-band management port
1 x Redundant Power Supply connector

Summit X440-24p

24 x 10/100/1000BASE-T PoE-plus(RJ45) – 4 ports are combo ports
4 x 100/1000BASE-X (SFP) combo ports
2 x SummitStack
1 x Serial (console port)
1 x 10/100BASE-T out-of-band management port
1 x Redundant Power Supply connector

Summit X440-48t

48 x 10/100/1000BASE-T (RJ45) – 4 ports are combo ports
4 x 100/1000BASE-X (SFP) unpopulated combo ports
2 x SummitStack
1 x Serial (console port)
1 x 10/100BASE-T out-of-band management port
1 x Redundant Power Supply connector

Summit X440-48p

48 x 10/100/1000BASE-T PoE-plus(RJ45) – 4 ports are combo ports
4 x 100/1000BASE-X (SFP) combo ports
2 x SummitStack 1 x Serial (console port)
1 x 10/100BASE-T out-of-band management port
1 x Redundant Power Supply connector

Summit X440-24t-10G

24 x 10/100/1000BASE-T (RJ45) – 4 ports are combo ports
4 x 100/1000BASE-X (SFP) unpopulated combo ports
2 x 10GBASE-X SFP+ (1G/10G dual speed) unpopulated
1 x Serial (console port)
1 x 10/100BASE-T out-of-band management port

Summit X440-24p-10G

24 x 10/100/1000BASE-T PoE-plus(RJ45) – 4 ports are combo ports
4 x 100/1000BASE-X (SFP) combo ports
2 x 10GBASE-X SFP+ (1G/10G dual speed) unpopulated
1 x Serial (console port)
1 x 10/100BASE-T out-of-band management port

Summit X440-48t-10G

48 x 10/100/1000BASE-T (RJ45) – 2 ports are combo ports
2 x 100/1000BASE-X (SFP) unpopulated combo ports
2 x 10GBASE-X SFP+ (1G/10G dual speed) unpopulated
1 x Serial (console port)
1 x 10/100BASE-T out-of-band management port

Summit X440-48p-10G

48 x 10/100/1000BASE-T PoE-plus(RJ45) – 2 ports are combo ports
2 x 100/1000BASE-X (SFP) combo ports
2 x 10GBASE-X SFP+ (1G/10G dual speed) unpopulated
1 x Serial (console port)
1 x 10/100BASE-T out-of-band management port
Weight and Physical Dimensions
Switch Model
Weight
Physical Dimension
Summit X440-8t
5.8 lb (2.640 kg)
Height: 1RU, 1.73 inches (4.4 cm)
Width: 12.0 inches (30.5 cm)
Depth: 10.3 inches (26.1 cm)
Summit X440-8p
6.7 lb (3.035 kg)
Summit X440-24t
8.4 lb (3.825 kg)
Height: 1RU, 1.73 inches (4.4 cm)
Width: 17.4 inches (44.1 cm)
Depth: 10.0 inches (25.4 cm)
Summit X440-24p
9.8 lb (4.465 kg)
Summit X440-48t
9.1 lb (4.125 kg)
Height: 1RU, 1.73 inches (4.4 cm)
Width: 17.4 inches (44.1 cm)
Depth: 10.0 inches (25.4 cm)
Summit X440-48p
10.7 lb (4.845 kg)
Summit X440-24t-10G
8.5 lb (3.865 kg)
Height: 1RU, 1.73 inches (4.4 cm)
Width: 17.4 inches (44.1 cm)
Depth: 10.0 inches (25.4 cm)
Summit X440-24p-10G
9.8 lb (4.475 kg)
Summit X440-48t-10G
9.1 lb (4.130 kg)
Height: 1RU, 1.73 inches (4.4 cm)
Width: 17.4 inches (44.1 cm)
Depth: 10.0 inches (25.4 cm)
Summit X440-48p-10G
10.6 lb (4.830 kg)
Fan Speed and Acoustic Noise
Switch Model
Low Speed
High Speed
RPM
dB(A) Sound Pressure (LpA)
RPM
dB(A) Sound Pressure (LpA)
Summit X440-8t
0 (no fan)
0 (no fan)
0 (no fan)
0 (no fan)
Summit X440-8p
5900
44
11000
55
Summit X440-24t
0 (fan not on)
0 (fan not on)
11000
55
Summit X440-24tDC
0 (fan not on)
15
11000
51
Summit X440-24p
5900
42
11000
57
Summit X440-24x
0 (fan not on)
0 (fan not on)
11000
52
Summit X440-48t
5900
39
11000
55
Summit X440-48tDC
5900
39
11000
52
Summit X440-48p
5900
42
11000
57
Summit X440-24t-10G
0 (fan not on)
0 (fan not on)
11000
55
Summit X440-24x-10G
5900
42
11000
57
Summit X440-24x-10G
5900
42
11000
53
Summit X440-48t-10G
5900
39
11000
55
Summit X440-48p-10G
5900
42
11000
57
Power Specifications
Switch Model
Efficiency
PoE Budget
Efficiency
Summit X440-8t
39W
170W
70%
Summit X440-8p
240W
70%
Summit X440-24t
44W
70%
Summit X440-24tDC
38W
70%
Summit X440-24p
585W
380W
70%
Summit X440-24x
46W
70%
Summit X440-48t
60W
70%
Summit X440-48tDC
57W
82%
Summit X440-48p
600W
380W
69%
Summit X440-24t-10G
44W
75%
Summit X440-24p-10G
585W
380W
75%
Summit X440-48t-10G
46W
75%
Summit X440-48p-10G
95W
66%
Switch Views:

Summit X440-8t

Summit X440-8p

Summit X440-24t

Summit X440-24p

Summit X440-48t

Summit X440-48p

Summit X440-24t-10G

Summit X440-24p-10G

Summit X440-48t-10G

Summit X440-48p-10G