Summit X430 Series

Open Fabric Edge Switches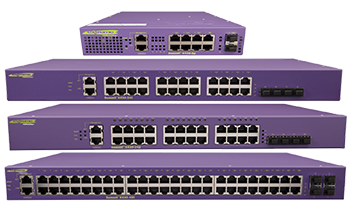 Sorry, this product is no longer available, please contact us for a replacement.
Overview:

The Extreme Networks Summit X430 series Gigabit Ethernet standalone switches provide network edge connectivity for enterprises, branch offices, and small and medium-sized businesses. Summit X430 series are available in 28- or 52-port 10/100/1000 Mpps port models 8 or 24 port 10/100/1000 Mpps IEEE 802.3at PoE models and are ideal for network convergence of Unified Communications, wireless mobility, streaming media and multicast traffic on a single open fabric edge network.
The Summit X430 leverages a compact 1RU and 10-inch deep form factor, along with a low volume operating mode that makes it ideal for open office and wiring closet environments. Summit X430 series switches support up to 4 fixed front panel 100/1000BASE-X (SFP) unpopulated ports (two SFP ports on the 8 port PoE+ switch) that can be utilized for high-speed backbone or link aggregation connections between wiring closets.
Summit X430 series simplifies network operation by using the ExtremeXOS, a modular operating system (OS) that spans all Extreme Networks Summit and BlackDiamond Ethernet switches. Powered by ExtremeXOS, the Summit X430 series enables organizations to build highly resilient and secure edge networks that support high network uptime, simplified management, increased operational efficiency with low total cost of ownership.
The Summit X430 provides exceptional Policy-based QoS with advanced traffic management for converged applications. With eight hardware queues per port to support granular (8kbps-1Mbps) traffic classification, the Summit X430 provides flexible yet reliable solution for converged data, voice & video traffic.
Highlights
Summit X430 series switches are based on the revolutionary ExtremeXOS that runs across all of Extreme Networks switches. Powered by ExtremeXOS, Summit X430 switches provide resilient, secure and programmable solution for your network edge application connectivity. Summit X430 switch provides low-to-medium density PoE+ and high-density Gigabit Ethernet ports plus dedicated SFP ports in a compact 1RU format, supporting intelligent Layer 2 switching with Layer 2 – Layer 4 traffic classification and QoS on every port for predictable network performance.
Key Features
28 or 52 Gigabit Ethernet ports.
8 port and 24 port IEEE802.3at PoE solutions
Line rate performance on all ports.
BASE-T connectivity to the desktop.
Dedicated BASE-X SFP ports.
ExtremeXOS Layer 2 edge feature set.
Limited Lifetime Warranty
Features & Benefits:
Simplified Network Deployment
Single streamlined operating system across the entire network.
Automatic port detection & provisioning using Universal Port capability.
Widgets & automation scripts to simplify operation & configuration.
LLDP/LLDP-MED to provide device management
High Performance
High bandwidth, non-blocking architecture
Quality of Service (QoS) with advanced traffic management capabilities.
8, 28 or 52 port
Line rate ACL for controlling network resource utilization & network protection.
Less than 5 µs (64-byte) latency
Comprehensive Security Features
Identity aware role based policy and host integrity enforcement
Extensive MAC and IP security functionality to help prevent man-in-the-middle attacks
Multiple network edge authentication support with multiple endpoints per port
Scalability for Future Network Growth
Layer 2 MAC addresses support – 16K.
Total VLANs – 4094.
Total trunks – 128 load sharing.
Maximum Layer 2 Multicast groups – 1K.
Programmable Extensibility
Integrate best-of-breed applications to your network with an open, yet secure XML-based Application Programming Interface (API).
Integrate Extreme Networks and third-party developed software applications using open standards-based POSIX interfaces.
Enable Network Convergence
Quality of Service (QoS) with advanced traffic management capabilities for converged applications.
Traffic policing or rate limiting on ingress, 802.1Q tagging and Diffserv marking, and shaping on egress with eight queues per port provides predictable network performance.
High Availability & Resiliency
Modular ExtremeXOS operating system
Ethernet Automatic Protection Switching (EAPS) resiliency protocol.
Spanning Tree (802.1D), Per VLAN Spanning Tree (PVST+), Rapid Spanning Tree (802.1w) and Multiple Instances of Spanning Tree (802.1s) protocols for Layer 2 resiliency.
Specifications:

Latency: <5 µs (64-byte)
Max Packet Size: 9KB (Jumbo Frame Support)
Total Trunks: 128 load sharing, members per trunk: 8
VLANs: 4,094
Ingress ACLs: 1,024

Forwarding Tables

Layer 2/MAC Addresses: 16K
Layer 2/Multicast Groups: 1K

CPU, Memory

Single Core CPU, 500 Mhz clock
256MB DRAM
256MB Compact Flash

QoS, Rate Limiting

Ingress bandwidth meters: 512
Ingress metering granularity: 8 Kbps
Ingress bandwidth policing/rate limiting per flow/ACL
Egress QoS queues/port: 8
Egress bandwidth rate shaping per egress queue and per port
Egress rate granularity: 64 Kbps
LED Indicators
Per port status LED including power status
System Status LEDs: management, fan and power

Operating Conditions Temperature Range

Humidity: 10% to 93% relative humidity, non-condensing
Shock (Half Sine): 30m/s2 (3 G), 11 ms, 60 shocks
Random vibration: 3 to 500 Hz at 1.5 G rms

Storage & Transporation Conditions (Packaged)

Transportation Temperature: -40° C to 70° C (- 40° F to 158° F)
Storage and Transportation Humidity: 10% to 95% RH
Packaged Shock (Half Sine): 180 m/s2 (18 G), 6ms, 600 shocks
Packaged Sine Vibration: 5 – 62 Hz @ Velocity 5mm/s, 62 – 500 Hz @ 0.2 G
Packaged Random Vibration: 5 – 20 Hz @ 1.0 ASD w/-3dB/ oct. from 20 – 200 Hz 14 drops minon sides & corners @ 39.4" (<15kg box)

Warranty

Ltd. Lifetime with express Advanced Hardware Replacement
For warranty details, visit: http://www.extremenetworks.com/go/warranty

Safety Standards

UL 60950-12nd Ed., Lisited Devices (U.S.)
CSA 22.2 #60950-1-03 wnd Ed. (Canada)
Complies with FCC 21CFR1040.10 (U.S. Laser Safety)
CDRH Letter of Approval (U.S. FDA Approval)
En60950-1:2006+A11+A1+A12+country deviations
EN60825-1:2007 (Lasers Safety) TUV-RGS Mark by German Notified Body
2006/95/EC Low Volatage Directive
AS/NZX 60950-1 (Australia/New Zealand)

EMI/EMC Standards

North America EMC for ITE

FCC CFR 47 part 15 Class A (U.S.A.)
ICES-003 Class A (Canada)

European EMC Standards

EN 55022:2010 Class A
EN 61000-3-2 2006+ A2: 2008 Class A iHarmonics)
EN 61000-3-3 2008 (Flicker)
EN 55024 2010
ETSI EN 300 386: v1.6.1 2008+A2:2010 (EMC Telecommunications)
EN 61000-6-4: 2007+A1: 2011 (General Emissions for Industrial, Scientific & Medical)
EN 61000-6-2:2005 (General Immunity for Industrial, Scientific & Medical)
EN 50121-4:2006 (Emission and immunity of the signaling for Railway Applications
2004/108/EC EMC Directive

International EMC Certifications

CISPR 22:2010, Class A (International Emissions)
CISPR 24 A2:2010(International Immunity) – IEC/EN 61000- 4-2:2008 Electrostatic Discharge, 8kV Contact, 15kV Air, Criteria A –IEC/EN 61000-4-3:2010 Radiated Immunity 20V/m, Criteria A
IEC/EN 61000-4-4:2012 Transient Burst – Power AC, ± 2.0kV, Criteria A
Power DC, ± 2.0kV CM, 1kV DM, Criteria A – I/O Cables, ± 2.0kV for all I/O longer than 3m
IEC 61000-4-5:2005/EN 61000-4-5:2006 Surge
AC Power, 1/2kV , Criteria A, test up to 2/4kV
DC Power 1kV DM, 2kV CM, Criteria A
I/O 1kV L-G, Criteria A
IEC/EN 61000-4-6:2008 Conducted Immunity, 0.15-80MHz, 10V/m unmod. RMS, Criteria A
IEC 61000-4-8:2009/EN 61000-4-8:2010 Magnetic Immunity, Not applicable
IEC/EN 61000-4-11:2004 Power Dips & Interruptions, >30%, 25 periods, Criteria A

International EMC Standards

VCCI Class A (Japan Emissions)
RCM (Australia Emissions)
CCC Mark (China Emissions)
KCC Mark (Korea Approval)
GOST-E (Russia)

Telecom Standards

ETSI EN 300 386: V1.6.1 A2:2010 EMC Telecommunications
ETSI EN 300 018 (Environmental for Telecommunications)
MEE 9 compliant
MEE 14 compliant

IEEE 802.3 Media Access Standards

IEEE 802.3ab 1000BASE-T
IEEE 802.3z 1000BASE-X
IEEE 802.3at PoE Plus

Environmental Standards

EN/ETSI 300 019-2-1 v2.1.2 - Class 1.2 Storage
EN/ETSI 300 019-2-2 v2.1.2 - Class 2.3 Transporation
EN/ETSI 300 019-2-3 v2.1.2 - Class 3.1e Operational
EN/ETSI 300 753 (1997-10) - Acoustic Noise
ASTM D3580 Random Vibration Unpackaged 1.5G
RoHS 6 compliant
China RoHS compliant
WEEE Compliant
**Except for the section titled "technical specifications" Extreme Networks makes no warranty whatsoever with respect to any other data contained in this data sheet including any (a) warranty of merchantability; or (b) warranty of fitness for a particular purpose;whether express or implied by law, course of dealing, course of performance, usage of trade or otherwise.
Switch Views:

Summit X430-24t

Summit X440-48t