Extreme Networks S-Series

Terabit-class, Convergence-ready, Modular Switch for Edge-to-Core and Data Deployments

Sorry, this product is no longer available, please contact us for a replacement.
Overview:
The Extreme Networks S-Series family of flow-based switches brings high performance distributed switching to the network access layer, distribution layer, enterprise/campus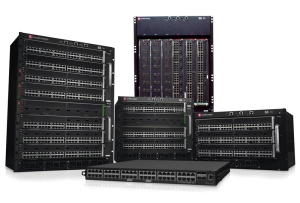 core, and data center. The S-Series family consists of the 8-slot S8, 6-slot S6, 4-slot S4, 3-slot S3, 1-slot S1A chassis and the fixed configuration S-Series Stand Alone (SSA). The S-Series delivers some of the highest switching port densities per rack unit available in the market and is future-proofed and scalable to provide overall system capacities of up to nine and a half Terabits. All chassis support 802.3af and 802.3at (high power) standards-based PoE via an integrated or field installable power system. There are a variety of I/O modules designed and optimized for deployment at the network access layer, distribution layer, network core and data center that provide a broad array of connectivity options for copper and fiber cabling infrastructures.
The S-Series provides a highly resilient distributed switching and routing architecture withmanagement and control functions embedded in each module, delivering unsurpassed reliability, scalability, and fault tolerance. Organizations can cost-effectively add connectivity as needed while scaling performance capacity with each new module. The highly available architecture makes forwarding decisions, and enforces security policies and roles while classifying/prioritizing traffic at wire speed. All I/O modules provide the highest Quality of Service (QoS) features for critical datacenter and campus applications such as voice and HD video even during periods of high network traffic load while also proactively preventing Denial of Service (DoS) attacks and malware propagation.
The S-Series implements our custom packet processor technology, CoreFlow2, which provides an industry-leading, flow-based switching architecture to intelligently manage individual user and application conversations—far beyond the capabilities of switches that are limited to using VLANs, ACLs, and ports to implement role-based access controls. Users are identified and roles are applied to ensure each individual user can access their business-critical applications no matter where they connect to the network.
S-Series policy rules combined with deep packet inspection can intelligently identify and automatically respond to security threats while improving reliability and quality of the user experience.
A significant differentiator for the S-Series is the ability to collect NetFlow data at wire-speed on every port, providing total visibility into network resource consumption for users and applications. The S-Series is the only enterprise switch to support multi-user, multi-method authentication on every port - absolutely essential when you have devices such as IP phones, computers, printers, copiers, security cameras, badge readers, and virtual machines connected to the network. When quality of service, device and application prioritization and security matters, there is no better choice than the Extreme Networks S-Series.
Forwarding Paradigm
The Extreme Networks S-Series chassis utilize both fabric-based point-to-point and fabric-less meshed forwarding architectures. The S1A, S4, S6, and S8 chassis use a fabric-based forwarding architecture that provides multiple high bandwidth data paths between I/O modules, while the S3 chassis provides a high performance, fabric-less meshed forwarding architecture ideally suited for highly available network edge wiring closet deployments. All chassis are optimized for redundant high performance switching and routing as well as providing flexible connectivity and the ability to add features and scale performance as required and as new technologies become available.
I/O fabric modules provide scalable, high performance data paths as well as a full complement of front panel interfaces with flexible modular interface options. A single I/O fabric may be used in either an S1A, S4, S6, or an S8 chassis, however, the use of two I/O fabrics creates a load sharing fabric pair that provides up to 2560 Gbps switching capacity and adds high-availability features. The S8 and S6 chassis augments the load sharing fabric pair by allowing the addition of a third I/O fabric module, increasing the system reliability and performance in the unlikely event of an I/O fabric failure. An S8 or S6 system with two I/O fabrics installed will gracefully reduce the fabric switching capacity by 50 percent, in the event of an I/O fabric failure, however, when a third I/O fabric is installed, the system will maintain a full 2560 Gbps of switching performance. The load sharing fabric architecture ensures the highest availability and performance for the most demanding and mission-critical networks.
Extreme Networks S-Series Highlights
Terabit-class performance with granular traffic visibility and control
Automated network provisioning for virtualized, cloud, and converged voice/video/data environments
High availability redundancy features including self-healing, maximizes business continuity for critical applications
Versatile high density solution with highly flexible connectivity and power options reduces cost of ownership
Built-in hardware support for 40Gb and 100 Gbps Ethernet, emerging protocols (IPv6) and large scale deployment protocols (MPLS)
Greater than 9.5 Tbps backplane capacity with 2.56 Tbps switching capacity and 1920 Mpps throughput
Features:
Distributed, Flow-Based Architecture
In order to ensure granular visibility and manage traffic without sacrificing performance, the Extreme Networks S-Series implements our CoreFlow2 distributed, flow-based architecture. This architecture ensures that when a specific communications flow is being established between two end points, the first packets in that communication are processed through the multilayer classification engines in the switch I/O modules and I/O fabric modules. In this process, the role is identified, the applicable policies are determined, the packets are inspected, and the action is determined. After the flow is identified, all subsequent packets associated with that flow are automatically handled in the CoreFlow2 ASICs without any further processing. In this way the Extreme Networks S-Series is able to apply a very granular level of control to each flow at full line rate.
System Summary
Extreme Networks S-Series I/O modules are high performance, fully-featured switch routers that deliver a fully distributed switching system as well as management and route processing capabilities, where each module is individually driven and managed by on-board processors. Extreme Networks CoreFlow2 ASICs, together with firmware microprocessors, create a traffic control solution that delivers high performance and flexibility. This distributed ASIC-based architecture increases processing power as modules are added for a higher level of scalability and flexibility.
I/O fabrics and I/O modules are available with a wide array of interface types and port densities (10/100/1000BASE-TX, 1000BASE SFP, 10GBASE SFP+, 10GBASE-T and 40GBASE QSFP+) to address varied network requirements. All triple speed copper I/O modules are PoE-enabled. A number of I/O modules also include either one or two option-module slots; an option-module slot provides additional media and port speed connectivity via triple speed copper, Gigabit SFP, 10 Gigabit SFP+ or a combination of gigabit and SFP+ Ethernet ports. This further simplifies network design and reduces the cost of network deployments. All S-Series I/O Fabrics and I/O Modules include deep packet buffers per port to avoid dropped packets in the event of network congestion.
All S-Series 10 Gigabit Ethernet SFP+ ports are dual speed and will also accept standard Gigabit SFP transceivers. This capability enables a smooth migration path from Gigabit Ethernet for connecting devices to 10 Gigabit Ethernet in the future. Customers can use Gigabit Ethernet optical uplinks today and migrate to 10 Gigabit at their own pace. In addition, all Gigabit SFP ports will accept Fast Ethernet 100BASE-FX/TX SFPs to enable connection of legacy devices.
S180 Class I/O and I/O Fabric Modules
The S180 class is designed to support the most demanding areas of the network where sustained high volumes of traffic are most common. Both 10 Gigabit and 40 Gigabit Ethernet modules incorporate advanced traffic management mechanisms and large packet buffers to ensure optimal network performance, predictability and reliability. The S180 Class is optimized for 10Gb and 40Gb Ethernet aggregation and the rigorous requirements of enterprise network core and data center. These modules support the full range of Extreme Networks OneFabric, CoreFlow2 features and advanced switching and routing without the need for additional licensing. The S180 class includes support for Virtual Switch Bonding via dedicated VSB SFP+ ports, which simplifies network virtualization functionality for the S-Series product lines. Dedicated VSB ports and support for Data Center Bridging protocols enable scalable virtual services in a data center environment.
S140 Class I/O Modules
The S140 class delivers a high performance, mid-tier switching solution that provides increased density and a lower-cost alternative in 10G aggregation scenarios. These modules offer the option for a high density, fabric-less aggregation solution by deploying gigabit and 10 Gigabit aggregation in the S3 chassis. The S140 class also provides high performance SFP and triple-speed with media flexibility and support for IEEE 802.3af PoE and IEEE 802.3at high power PoE standards. The S140 modules provide the gigabit aggregation connectivity for the S180 class chassis configurations. Dedicated VSB ports via Option Module and support for Data Center Bridging protocols enable scalable virtual services in a data center environment.
S130 Class I/O Modules
S130 class I/O modules are optimized for use in wiring closets for user connectivity, in the distribution layer to aggregate edge switches and in small and medium network cores. These modules provide high density with media flexibility and support for IEEE 802.3af PoE and IEEE 802.3at highpower PoE standards. S130 class I/O modules deliver scalable triple speed performance and flexibility to ensure compatibility with today's high performance workstations, as well as legacy devices, while providing the highest levels of QoS, security, and bandwidth control via flow-based switching.
S130 class I/O modules include a unique feature that enables full line rate forwarding for bandwidth hungry workstations or when downstream switches are connected. Flex-Edge technology provides line rate forwarding through the switch even when the systems uplinks are in an oversubscribed state. This ensures that critical and time sensitive data passes through the switch to its destination at line rate, unlike inefficient methods used by other solutions on the market.
S130 class I/O modules support up to 512 users with up to eight authenticated users per port in contrast to S140/S180 class modules which support up to 1,024 users/devices per module with no restriction to the number of users per port. In cases where an S130 class I/O module needs to support more than 8 authenticated users per port, a software upgrade license may be purchased and applied to the module that enables this capability. The S-EOS-PPC license is required for each S130 class I/O module that requires 8 users per port restriction removed. Only one S-EOS-PPC license is required for the S130 class SSA switch.
High Availability HW Features
The S-Series includes many standard high availability features. These hardware-based features allow the S-Series to be deployed in mission critical environments that require 24/7 availability
High Availability Summary:
Passive chassis backplanes S1A, S3, S4, S6, S8 chassis
Meshed backplane architecture in the S3 chassis
Hot swappable fan trays with multiple cooling fans
Separate system and PoE power supplies
Hot swappable power supplies
Multiple AC input connections for power circuit redundancy
Load sharing/redundant I/O fabrics S4, S6, and S8 chassis
N+1 fabric redundancy in the S8 and S6 chassis
Hot swappable I/O fabrics and I/O modules
Multiple host CPU for N+X redundancy
Virtual Switch Bonding
Feature-Rich Functionality
Examples of additional functionality and features that are supported in the Extreme Networks S-Series.
Features Summary:
Multi-user, Multi-method Authentication and Policy per port
Line Rate, non-sampled Netflow (v5/v9)
Server Load Balancing (LSNAT)
Network Address Translation (NAT)
Generic Route Encapsulation (GRE)
Flow Setup Throttling (FST)
Flex-Edge Technology
High Availability Firmware Upgrades (HAU)
Anti-Spoofing Protection and User tracking
Virtual Private Port Service (GRE with Layer 2)
Fabric Routing with IP Host Mobility
Application Policy Controls (Bonjour, uPNP)
Remote Port and Flow Mirrors
Policy driven mirrors
Layer 2 MAC Access Control Lists
RADIUS Server Load Balancing
DHCP Server (IPv4/IPv6)
IPSLA
Standards and Protocols:
Switching/VLAN Services

Generic VLAN Registration Protocol (GVRP)
802.1ab LLDP-MED
802.1ad Provider Bridges
802.1ag Connectivity Fault Management (CFM)
802.1ak Multiple VLAN Registration Protocol (MVRP)
802.1aq (SPB) Shortest Path Bridging (Ready)
802.1ax-2008 / 802.3ad Link Aggregation

up to 64 groups with up to 8 ports in a group

802.1d MAC Bridges
802.1q VLANs
802.1s Multiple Spanning Tree
802.1t Path Cost Amendment to 802.1D
802.1w Rapid re-convergence of Spanning Tree
802.3 2008 Clause 57 (Ethernet OAM – Link Layer OAM)
802.3ab Gigabit Ethernet (copper)
802.3ae 10 Gigabit Ethernet (fiber)
802.3an 10GBASE-T (copper)
802.3az Energy Efficient Ethernet (EEE)
802.3u Fast Ethernet
802.3x Flow Control
802.3z Gigabit Ethernet (fiber)
IP Multicast (IGMPv1,v2,v 3)
IGMP v1/v2/v3 Snooping and Querier
Jumbo Packet with MTU Discovery Support for Gigabit (9216 bytes)
Link Flap Detection
Dynamic Egress (Automated VLAN Port Configuration)
Data Center Bridging
ETS (Enhanced Transmission Selection)
DCBx (Data Center Bridge Exchange Protocol)
802.1Qbb PFC (Priority Flow Control)
802.1Qau Congestion Notification
MLD IPv6 Snooping and Querier
Virtual Switch Bonding (VSB)
Anti-Spoofing Suite
DHCP Snooping
Dynamic Arp Inspection (DAI)
IP Source Guard

IP Routing Features

Static Routes
Standard ACLs
OSPF with Multipath Support
OSPF Passive Interfaces
IPv6 Routing Protocol
Extended ACLs
Policy-based Routing
NAT Network Address Translation
TWCB Transparent Web Cache Redirect
VRF Virtual Routing and Forwarding (IPv6 and IPv4)
Border Gateway Routing Protocol - BGPv4
PIM Source Specific Multicast - PIM SSM
RFC 147 Definition of a socket
RFC 768 UDP
RFC 781 Specification of (IP) timestamp option
RFC 783 TFTP
RFC 791 Internet Protocol
RFC 792 ICMP
RFC 793 TCP
RFC 826 ARP
RFC 854 Telnet
RFC 894 Transmission of IP over Ethernet Networks
RFC 919 Broadcasting Internet Datagrams
RFC 922 Broadcasting IP datagrams over subnets
RFC 925 Multi-LAN Address Resolution
RFC 950 Internet Standard Subnetting Procedure
RFC 951 BOOTP
RFC 959 File Transfer Protocol
RFC 1027 Proxy ARP
RFC 1034 Domain Names - Concepts and Facilities
RFC 1035 Domain Names - Implementation and Specification
RFC 1071 Computing the Internet checksum
RFC 1112 Host extensions for IP multicasting
RFC 1122 Requirements for IP Hosts - Comm Layers
RFC 1123 Requirements for IP Hosts - Application and Support
RFC 1157 Simple Network Management Protocol
RFC 1191 Path MTU discovery
RFC 1195 Use of OSI IS-IS for Routing in TCP/IP
RFC 1245 OSPF Protocol Analysis
RFC 1246 Experience with the OSPF Protocol
RFC 1265 BGP Protocol Analysis
RFC 1266 Experience with the BGP Protocol
RFC 1323 TCP Extensions for High Performance
RFC 1349 Type of Service in the Internet Protocol Suite
RFC 1350 TFTP
RFC 1387 RIPv2 Protocol Analysis
RFC 1388 RIPv2 Carrying Additional Information
RFC 1492 TACAS+
RFC 1517 Implementation of CIDR
RFC 1518 CIDR Architecture
RFC 1519 Classless Inter-Domain Routing (CIDR)
RFC 1542 BootP: Clarifications and Extensions
RFC 1624 IP Checksum via Incremental Update
RFC 1657 Managed Objects for BGP-4 using SMIv2
RFC 1721 RIPv2 Protocol Analysis
RFC 1722 RIPv2 Protocol Applicability Statement
RFC 1723 RIPv2 with Equal Cost Multipath Load Balancing
RFC 1771 A Border Gateway Protocol 4 (BGP-4)
RFC 1772 Application of BGP in the Internet
RFC 1773 Experience with the BGP-4 protocol
RFC 1774 BGP-4 Protocol Analysis
RFC 1812 General Routing/RIP Requirements
RFC 1853 IP in IP Tunneling
RFC 1886 DNS Extensions to support IP version 6
RFC 1924 A Compact Representation of IPv6 Addresses
RFC 1930 Guidelines for creation, selection, and registration of an Autonomous System (AS)
RFC 1966 BGP Route Reflection
RFC 1981 Path MTU Discovery for IPv6
RFC 1997 BGP Communities Attribute
RFC 1998 BGP Community Attribute in Multi-home Routing
RFC 2001 TCP Slow Start
RFC 2003 IP Encapsulation within IP
RFC 2018 TCP Selective Acknowledgment Options
RFC 2030 SNTP
RFC 2080 RIPng (IPv6 extensions)
RFC 2082 RIP-II MD5 Authentication
RFC 2104 HMAC
RFC 2113 IP Router Alert Option
RFC 2117 PIM -SM Protocol Specification
RFC 2131 Dynamic Host Configuration Protocol
RFC 2132 DHCP Options and BOOTP Vendor Extensions
RFC 2138 RADIUS Authentication
RFC 2236 Internet Group Management Protocol, Version 2
RFC 2260 Support for Multi-homed Multi-prov
RFC 2270 Dedicated AS for Sites Homed to one Provider
RFC 2276 Architectural Principles of Uniform Resource Name Resolution RFC 2328 OSPFv2
RFC 2329 OSPF Standardization Report
RFC 2338 VRRP
RFC 2362 PIM-SM Protocol Specification
RFC 2370 The OSPF Opaque LSA Option
RFC 2373 Address notation compression
RFC 2374 IPv6 Aggregatable Global Unicast Address Format
RFC 2375 IPv6 Multicast Address Assignments
RFC 2385 BGP TCP MD5 Signature Option
RFC 2391 Load Sharing Using Network Address Translation(LSNAT)
RFC 2401 Security Architecture for the Internet Protocol
RFC 2404 The Use of HMAC-SHA-1-96 within ESP and AH
RFC 2406 IP Encapsulating Security Payload (ESP)
RFC 2407 Internet IP Security Domain of Interpretation for ISAKMP
RFC 2408 Internet Security Association and Key Management Protocol (ISAKMP)
RFC 2409 The Internet Key Exchange (IKE)
RFC 2428 FTP Extensions for IPv6 and NATs
RFC 2450 Proposed TLA and NLA Assignment Rule
RFC 2453 RIPv2
RFC 2460 IPv6 Specification
RFC 2461 Neighbor Discovery for IPv6
RFC 2462 IPv6 Stateless Address Auto-configuration
RFC 2463 ICMPv6
RFC 2464 Transmission of IPv6 over Ethernet
RFC 2473 Generic Packet Tunneling in IPv6 Specification
RFC 2474 Definition of DS Field in the IPv4/v6 Headers
RFC 2475 An Architecture for Differentiated Service
RFC 2519 A Framework for Inter-Domain Route Aggregation
RFC 2545 BGP Multiprotocol Extensions for IPv6
RFC 2547 BGP/MPLS VPNs
RFC 2553 Basic Socket Interface Extensions for IPv6
RFC 2577 FTP Security Considerations
RFC 2581 TCP Congestion Control
RFC 2597 Assured Forwarding PHB Group
RFC 2663 NAT & PAT (NAPT)
RFC 2685 Virtual Private Networks Identifier
RFC 2697 A Single Rate Three Color Marker
RFC 2710 IPv6 Router Alert Option
RFC 2711 Multicast Listener Discovery (MLD) for IPv6
RFC 2715 Interoperability Rules for Multicast Routing Protocols
RFC 2740 OSPF for IPv6
RFC 2763 Dynamic Hostname Exchange Mechanism for IS-IS
RFC 2784 Generic Routing Encapsulation Ready
RFC 2796 BGP Route Reflection
RFC 2827 Network Ingress Filtering
RFC 2858 Multiprotocol Extensions for BGP-4
RFC 2865 RADIUS Authentication
RFC 2865 RADIUS Accounting
RFC 2890 Key and Sequence Number Extensions to GRE
RFC 2893 Transition Mechanisms for IPv6 Hosts and Routers
RFC 2894 Router Renumbering
RFC 2918 Route Refresh Capability for BGP
RFC 2966 Prefix Distribution with Two-Level IS-IS
RFC 2973 IS-IS Mesh Groups
RFC 2991 Multipath Issues in Ucast & Mcast Next-Hop
RFC 3022 Traditional NAT
RFC 3056 Connection of IPv6 Domains via IPv4 Clouds
RFC 3065 Autonomous System Confederations for BGP

RFC 3069 VLAN Aggregation for Efficient IP Address Allocation
RFC 3101 The OSPF Not-So-Stubby Area (NSSA) Option
RFC 3107 Carrying Label Information in BGP-4
RFC 3137 OSPF Stub Router Advertisement
RFC 3162 RADIUS and IPv6
RFC 3315 DHCPv6
RFC 3345 BGP Persistent Route Oscillation
RFC 3359 TLV Code points in IS-IS
RFC 3373 Three-Way Handshake for IS-IS
RFC 3376 IGMPv3
RFC 3392 Capabilities Advertisement with BGP-4
RFC 3411 SNMP Architecture for Management Frameworks
RFC 3412 Message Processing and Dispatching for SNMP
RFC 3413 SNMP Applications
RFC 3446 Anycast RP mechanism using PIM and MSDP
RFC 3484 Default Address Selection for IPv6
RFC 3493 Basic Socket Interface Extensions for IPv6
RFC 3509 Alternative Implementations of OSPF ABRs
RFC 3513 IPv6 Addressing Architecture
RFC 3542 Advanced Sockets API for IPv6
RFC 3562 Key Mgt Considerations for TCP MD5 Signature Opt
RFC 3567 IS-IS Cryptographic Authentication
RFC 3587 IPv6 Global Unicast Address Format
RFC 3590 MLD Multicast Listener Discovery
RFC 3595 Textual Conventions for IPv6 Flow Label
RFC 3596 DNS Extensions to Support IP Version 6
RFC 3618 Multicast Source Discovery Protocol (MSDP)
RFC 3623 Graceful OSPF Restart
RFC 3678 Socket Interface Ext for Mcast Source Filters
RFC 3704 Network Ingress Filtering
RFC 3719 Recommendations for Interop Networks using IS-IS
RFC 3766 Determining Strengths For Public Keys Used For Exchanging Symmetric Keys
RFC 3768 VRRP
RFC 3769 Requirements for IPv6 Prefix Delegation
RFC 3787 Recommendations for Interop IS-IS IP Networks
RFC 3810 MLDv2 for IPv6
RFC 3826 The Advanced Encryption Standard (AES) Cipher Algorithm
RFC 3847 Restart signaling for IS-IS
RFC 3879 Deprecating Site Local Addresses
RFC 3956 Embedding the RP Address in IPv6 MCAST Address
RFC 4007 IPv6 Scoped Address Architecture
RFC 4023 Encapsulating MPLS in IP
RFC 4026 Provider Provisioned VPN Terminology
RFC 4109 Algorithms for IKEv1
RFC 4167 Graceful OSPF Restart Implementation Report
RFC 4191 Default Router Preferences and More-Specific Routes
RFC 4193 Unique Local IPv6 Unicast Addresses
RFC 4213 Basic Transition Mechanisms for IPv6
RFC 4222 Prioritized Treatment of OSPFv2 Packets
RFC 4250 – The Secure Shell (SSH) Protocol Assigned Numbers
RFC 4251 – The Secure Shell (SSH) Protocol Architecture
RFC 4252 – The Secure Shell (SSH) Authentication Protocol
RFC 4253 – The Secure Shell (SSH) Transport Layer Protocol (no support diffie-hellman-group14-sha1)
RFC 4254 – The Secure Shell (SSH) Connection Protocol
RFC 4256 – Generic Message Exchange Authentication for the Secure Shell Protocol (SSH)
RFC 4264 BGP Wedgies
RFC 4265 Definition of Textual Conventions for (VPN) Management
RFC 4271 A Border Gateway Protocol 4 (BGP-4)
RFC 4272 BGP Security Vulnerabilities Analysis
RFC 4273 Managed Objects for BGP-4 using SMIv2
RFC 4274 BGP-4 Protocol Analysis
RFC 4275 BGP-4 MIB Implementation Survey
RFC 4276 BGP-4 Implementation Report
RFC 4277 Experience with the BGP-4 protocol
RFC 4291 IP Version 6 Addressing Architecture
RFC 4294 IPv6 Node Requirements
RFC 4301 Security Architecture for IP
RFC 4302 IP Authentication Header
RFC 4303 IP Encapsulating Security Payload (ESP)
RFC 4305 Crypto Algorithm Requirements for ESP and AH
RFC 4306 Internet Key Exchange (IKEv2) Protocol
RFC 4307 Cryptographic Algorithms for Use in IKEv2
RFC 4308 Cryptographic Suites for IPSec
RFC 4360 BGP Extended Communities Attribute
RFC 4364 BGP/MPLS IP VPNs
RFC 4365 Applicability Statement for BGP/MPLS IP Virtual Private Networks (VPNs)
RFC 4384 BGP Communities for Data Collection
RFC 4419 – Diffie-Hellman Group Exchange for the Secure Shell (SSH) Transport Layer Protocol (no support diffiehellman-group-exchange-sha256)
RFC 4443 ICMPv6 for IPv6
RFC 4451 BGP MULTI_EXIT_DISC (MED) Considerations
RFC 4456 BGP Route Reflection
RFC 4486 Subcodes for BGP Cease Notification Message
RFC 4541 IGMP Snooping
RFC 4541 MLD Snooping
RFC 4552 Authentication/Confidentiality for OSPFv3
RFC 4577 OSPF as PE/CE Protocol for BGP L3 VPNs
RFC 4601 PIM-SM
RFC 4602 PIM-SM IETF Proposed Std Req Analysis
RFC 4604 IGMPv3 & MLDv2 & Source-Specific Multicast
RFC 4607 Source-Specific Multicast for IP
RFC 4608 PIM--SSM in 232/8
RFC 4610 Anycast-RP Using PIM
RFC 4611 Multicast Source Discovery Protocol (MSDP) Deployment Scenarios
RFC 4632 Classless Inter-Domain Routing (CIDR)
RFC 4659 BGP-MPLS (VPN) Extension for IPv6 VPN
RFC 4716 – The Secure Shell (SSH) Public Key File Format
RFC 4724 Graceful Restart Mechanism for BGP
RFC 4760 Multiprotocol Extensions for BGP-4
RFC 4835 CryptoAlgorithm Requirements for ESP and AH
RFC 4861 Neighbor Discovery for IPv6
RFC 4862 IPv6 Stateless Address Autoconfiguration
RFC 4878 OAM Functions on Ethernet-Like Interfaces
RFC 4884 Extended ICMP Multi-Part Messages
RFC 4893 BGP Support for Four-octet AS Number Space
RFC 4940 IANA Considerations for OSPF
RFC 5059 Bootstrap Router (BSR) Mechanism for (PIM)
RFC 5095 Deprecation of Type 0 Routing Headers in IPv6
RFC 5186 IGMPv3/MLDv2/MCAST Routing Protocol Interaction
RFC 5187 OSPFv3 Graceful Restart
RFC 5250 The OSPF Opaque LSA Option
RFC 5291 Outbound Route Filtering Capability for BGP-4
RFC 5292 Address-Prefix-Outbound Route Filter for BGP-4
RFC 5294 Host Threats to PIM
RFC 5301 Dynamic Hostname Exchange Mechanism for IS-IS
RFC 5302 Domain-wide Prefix Distribution with IS-IS
RFC 5303 3Way Handshake for IS-IS P2P Adjacencies
RFC 5304 IS-IS Cryptographic Authentication
RFC 5306 Restart Signaling for IS-IS
RFC 5308 Routing IPv6 with IS-IS
RFC 5309 P2P operation over LAN in link-state routing
RFC 5310 IS-IS Generic Cryptographic Authentication
RFC 5340 OSPF for IPv6
RFC 5396 Textual Representation AS Numbers
RFC 5398 AS Number Reservation for Documentation Use
RFC 5492 Capabilities Advertisement with BGP-4
RFC 5668 4-Octet AS Specific BGP Extended Community
RFC 5798 Virtual Router Redundancy Protocol (VRRP) Version 3
RFC 6104 Rogue IPv6 RA Problem Statement
RFC 6105 IPv6 Router Advertisement Guard
RFC 6106 IPv6 RA Options for DNS Configuration
RFC 6164 Using 127-Bit IPv6 Prefixes on Inter-Router Links
RFC 6296 IPv6-to-IPv6 Network Prefix Translation
RFC 6549 OSPFv2 Multi-Instance Extensions
RFC 4577 OSPF as PE/CE Protocol for BGP L3 VPNs
RFC 6565 OSPFv3 as PE/CE Protocol for BGP L3 VPNs

Network Security and Policy Management

802.1X Port-based Authentication
Web-based Authentication
MAC-based Authentication
Convergence Endpoint Discovery with Dynamic Policy Mapping (Siemens HFA, Cisco VoIP, H.323, and SIP)
Multiple Authentication Types per Port Simultaneously
Multiple Authenticated users per Port with unique policies per user/End System (VLAN association independent)
RFC 3580 IEEE 802.1 RADIUS Usage Guidelines, with VLAN to Policy Mapping
Worm Prevention (Flow Set-Up Throttling)
Broadcast Suppression
ARP Storm Prevention
MAC-to-Port Locking
Span Guard (Spanning Tree Protection)
Stateful Intrusion Detection System Load Balancing
Stateful Intrusion Prevention System and Firewall Load Balancing
Behavioral Anomaly Detection/Flow Collector (non-sampled Netflow)
Static Multicast Group Provisioning
Multicast Group, Sender and Receiver Policy Control
Extreme Networks Private VLANs

Class Of Service

Strict Priority Queuing
Weighted Fair Queuing with Shaping
Hybrid Arbitration
16/12 Transmit Queues per Port
Up to 3,072 rate limiters for S130 Class products
Up to 12,288 rate limiters for S180 Class products
Packet Count or Bandwidth based Rate Limiters.(BandwidthThresholds between 8 Kbps and 4 Gbps)
IP ToS/DSCP Marking/Remarking
802.1D Priority-to-Transmit Queue Mapping

Extreme Networks Management Suite (NMS)

NetSight Base
NetSight
NetSight Advanced
Data Center Manager

Network Management

SNMP v1/v2c/v3
Web-based Management Interface
Industry Common Command Line Interface
Multiple Software Image Support with Revision Roll Back
Multi-configuration File Support
Editable Text-based Configuration File
COM Port Boot Prom and Image Download via ZMODEM
Telnet Server and Client
Secure Shell (SSHv2) Server and Client
Cabletron Discovery Protocol
Cisco Discovery Protocol v1/v2
Syslog
FTP Client
Simple Network Time Protocol (SNTP)
Netflow version 5 and version 9
RFC 2865 RADIUS
RFC 2866 RADIUS Accounting
TACACS+ for Management Access Control
Management VLAN
15 Many to-One-port, One-to-Many Ports, VLAN Mirror Sessions
Remote Port Mirrors

Standard MIB Support

RFC 1156 MIB
RFC 1213 MIB-II
RFC 1493 Bridge MIB
RFC 1659 RS-232 MIB
RFC 1724 RIPv2 MIB
RFC 1850 OSPF MIB
RFC 2012 TCP MIB
RFC 2013 UDP MIB
RFC 2096 IP Forwarding Table MIB
RFC 2233 The Interfaces Group MIB using SMIv2
RFC 2576 SNMP-Community MIB
RFC 2578 SNMPv2 SMI
RFC 2579 SNMPv2-TC
RFC 2613 SMON MIB
RFC 2618 RADIUS Client MIB
RFC 2620 RADIUS Accounting MIB
RFC 2674 802.1p/q MIB
RFC 2787 VRRP MIB
RFC 2819 RMON MIB (Groups 1-9)
RFC 2863 IF MIB
RFC 2864 IF Inverted Stack MIB
RFC 2922 Physical Topology MIB
RFC 2934 PIM MIB for IPv4
RFC 3273 HC RMON MIB
RFC 3291 INET Address MIB
RFC 3411 SNMP Framework MIB
RFC 3412 SNMP-MPD MIB
RFC 3413 SNMPv3 Applications
RFC 3413 SNMP Notifications MIB
RFC 3413 SNMP Proxy MIB
RFC 3413 SNMP Target MIB
RFC 3414 SNMP User-Based SM MIB
RFC 3415 SNMP View Based ACM MIB
RFC 3417 SNMPv2-TM
RFC 3418 SNMPv2 MIB
RFC 3433 Entity Sensor MIB
RFC 3621 Power Ethernet MIB
RFC 3635 EtherLike MIB
RFC 4022 MIB for the Transmission Control Protocol (TCP)
RFC 4087 IP Tunnel MIB
RFC 4113 MIB for the User Datagram Protocol (UDP)
RFC 4133 ENTITY MIB
RFC 4188 Bridge MIB
RFC 4268 Entity State MIB
RFC 4268 Entity State TC MIB
RFC 4292 IP Forwarding MIB
RFC 4293 MIB for Internet Protocol (IP)
RFC 4382 MPLS/BGP Layer 3 Virtual Private Network (VPN) MIB
RFC 4444 MIB for IS-IS
RFC 4560 DISMAN-PING-MIB
RFC 4560 DISMAN-TRACEROUTE-MIB
RFC 4560 DISMAN-NSLOOKUP-MIB
RFC 4624 MSDP MIB
RFC 4750 OSPFv2 MIB
RFC 4836 MAU-MIB
RFC 4836 IANA-MAU-MIB
RFC 4878 DOT3-OAM-MIB
RFC 5060 PIM MIB
RFC 5240 PIM Bootstrap Router MIB
RFC 5519 MGMD-STD-MIB
RFC 5643 OSPFv3 MIB
IANA Address Family Numbers MIB
IEEE802.1 BRIDGE MIB
IEEE802.1 CFM MIB
IEEE802.1 CFM V2 MIB
IEEE802.1 MSTP MIB
IEEE802.1 Q BRIDGE MIB
IEEE802.1 SPANNING TREE-MIB
IEEE802.3 DOT3 LLDP EXT V2 MIB Partial
IEEE802.1PAE MIB
IEEE802.3 LAG MIB
LLDP MIB
LLDP EXT MED MIB
LLDP EXT DOT1 MIB
LLDP EXT DOT3 MIB
LLDP EXT DOT3 V2 MIB (IEEE 802.3-2009) ETS Admin table read only
Draft-ietf-idr-bgp4-mibv2 (Partial Support)
Draft-ietf-idr-bgp-identifier
Draft-ietf-idr-as-pathlimit
Draft-ietf-idr-mrai-dep (Partial Support)
Draft-ietf-isis-experimental-tlv (Partial Support)
Draft-ietf-isis-ipv6-te (Partial Support)
Draft-ietf-ospf-ospfv3-mib
Draft-ietf-ospf-te-node-addr
Draft-ietf-idmr-dvmrp-v3-11
Draft-ietf-vrrp-unified-spec-03.txt

Private MIB Support

CT Broadcast MIB
CTIF EXT MIB
CTRON Alias MIB
CTRON Bridge MIB
CTRON CDP MIB
CTRON Chassis MIB
CTRON Environmental MIB
CTRON MIB Names
CTRON OIDS
CTRON Q Bridge MIB EXT MIB
Cisco TC MIB
Cisco CDP MIB
Cisco NETFLOW MIB
DVMRP MIB
Extreme Networks Flow Limiting MIB
Extreme Networks 802.1X Extensions MIB
Extreme Networks AAA Policy MIB
Extreme Networks Anti-Spoof MIB
Extreme Networks Auto Tracking MIB
Extreme Networks Class of Service MIB
Extreme Networks Configuration Change MIB
Extreme Networks Configuration Management MIB
Extreme Networks Convergence Endpoint MIB
Extreme Networks Diagnostic Message MIB
Extreme Networks DNS Resolver MIB
Extreme Networks DVMRP EXT MIB
Extreme Networks Entity Sensor MIB Ext MIB
Extreme Networks IEEE8023 LAG MIB EXT MIB
Extreme Networks IETF Bridge MIB EXT MIB
Extreme Networks ETF P Bridge MIB EXT MIB
Extreme Networks ETH OAM EXT MIB
Extreme Networks IF MIB EXT MIB
Extreme Networks IEEE802.1 Bridge MIB EXT MIB
Extreme Networks IEEE802.1 Q-Bridge MIB EXT MIB
Extreme Networks IEEE802.1 Spanning Tree MIB EXT MIB
Extreme Networks Jumbo Ethernet Frame MIB
Extreme Networks License Key MIB
Extreme Networks License Key OIDS MIB
Extreme Networks Link Flap MIB
Extreme Networks LSNAT-MIB
Extreme Networks MAC Authentication MIB
Extreme Networks MAC Locking MIB
Extreme Networks MAU MIB EXT MIB
Extreme Networks MGMT Auth Notification MIB
Extreme Networks MGMT MIB
Extreme Networks MIB Names Definitions
Extreme Networks Mirror Config
Extreme Networks MSTP MIB
Extreme Networks MULTI Auth MIB
Extreme Networks MULTI Topology Routing MIB
Extreme Networks MULTI User 8021X MIB
Extreme Networks NAT MIB
Extreme Networks NETFLOW MIB (v5 & v9)
Extreme Networks OIDS MIB Definitions
Extreme Networks OSPFEXT MIB
Extreme Networks PIM EXT MIB
Extreme Networks PFC MIB EXT MIB
Extreme Networks Policy Profile MIB
Extreme Networks Power Ethernet EXT MIB
Extreme Networks PTOPO MIB EXT MIB
Extreme Networks PWA MIB
Extreme Networks RADIUS ACCT Client EXTMIB
Extreme Networks RADIUS AUTH Client MIB
Extreme Networks Resource Utilization MIB
Extreme Networks RIPv2 EXT MIB
Extreme Networks RMON EXT MIB
Extreme Networks SNTP Client MIB
Extreme Networks Spanning Tee Diagnostics MIB
Extreme Networks SYSLOG Client MIB
Extreme Networks TACACS Client MIB
Extreme Networks TWCB MIB
Extreme Networks UPN-TC-MIB
Extreme Networks VLAN Authorization MIB
Extreme Networks VLAN Interface MIB
Extreme Networks VRRP EXT MIB Definitions
RSTP MIB
U Bridge MIB
USM Target Tag MIB
SNMP REARCH MIB
Specifications are subject to change without notice.
Specifications:
Performance and Port Density
SSA130
SSA150
SSA180
S1
S3
S4
S6
S6
Chassis Slots
-
-
-
1
3
4
6
8
System Switching Capacity
40Gbs
120Gbs
120Gbps
320Gbps
360Gbps
1.28Tbps
1.92Tbps
2.56Tbps
System Switching Throughput
30Mpps
90Mpps
90Mpps
240Mpps
360Mpps
960Mpps
1440Mpps
1920Mpps
Total Backplane Capacity
-
-
-
320Gbps
525Gbps
3Tbps
7Tbps
9.5Tbps
Maximum 10/100/1000 Base-TX Class 3 PoE or 1000Base-X SFP (MGBIC) ports per system
48
48
48 (No PoE)
72
216
288
432
576
Maximum 10GBase-X SFP+ ports per system
4
4
4
24
96
112
168
232
Maximum 40GBase-X QSFP+ ports per system
-
-
-
6
-
24
36
48
SSA Performance and Port Density
SSA130
SSA150
SSA150
SSA180
SSA180
Part Number
SSA-T4068-0252
SSA-T1068-0652A
SSA-G1018-0652
SSA-T8028-0652
SSA-G8018-0652
Port Type
RJ45
RJ45
SFP
RJ45
SFP
Port Quantity
48
48
48
48
48
Port Speed
10/100/1000Gbps
10/100/1000Gbps
1000Gbps
10/100/1000Gbps
1000Gbps
Uplink Type
SFP+
SFP+
SFP+
SFP+
SFP+
Uplink Port Quantity
4
4
4
4
4
Uplink Speed
10Gb
10Gb
10Gb
10Gb
10Gb
PoE Support
802.3af, 802.3at
802.3af, 802.3at
-
-
-
Switching Capacity
40Gbs
120Gbs
120Gbs
120Gbs
120Gbs
Switching Throughput
30Mpps
90Mpps
90Mpps
90Mpps
90Mpps
Airflow
Side to Side
Side to Side
Side to Side
Front to Back
Front to Back
I/O Module Specification: S130 Class Modules
Part Number
ST4106-0248
SG4101-0248
Used in
S3/S4/S6/S8 Chassis
S3/S4/S6/S8 Chassis
Port Type
RJ45
SFP
Port Quantity
48
48
Port Speed
10/100/1000Gbps
1000Gbps
PoE Support
802.3af, 802.3at
-
Option Module Slots
1, (Type1)
1, (Type1)
Module I/O Throughput
30Mpps
30Mpps
I/O Switching Capacity
40Gbps
40Gbps
I/O Module Specification: S140 Class Modules
Part Number
ST2206-0848
SG2201-0848
SK2008-0832
SK2009-0824
Used in
S3/S4/S6/S8 Chassis
S3/S4/S6/S8 Chassis
S3/S4/S6/S8 Chassis
S3/S4/S6/S8 Chassis
Port Type
RJ45
SFP
SFP+
10GBase-T
Port Quantity
48
48
32
24
Port Speed
10/100/1000Gbps
1000Gbps
10Gbps
10Gbps
PoE Support
802.3af, 802.3at
-
-
-
Option Module Slots
2, (Type 2)
2, (Type 2)
-
-
Module I/O Throughput
120Mpps
120Mpps
120Mpps
120Mpps
I/O Switching Capacity
160Gbps
160Gbps
160Gbps
160Gbps
I/O Module Specification: S180 Class Modules
Part Number
SK8008-1224
SK8009-1224
SL8013-1206
Used in
S4/S6/S8 Chassis
S4/S6/S8 Chassis
S4/S6/S8 Chassis
Port Type
SFP+
10GBase-T
QFSP+
Port Quantity
24
24
6
Port Speed
10Gbps
10Gbps
40Gbps
PoE Support
-
-
-
Option Module Slots
-
-
-
Module I/O Throughput
240Mpps
240Mpps
240Mpps
I/O Switching Capacity
320Gbps
320Gbps
320Gbps
I/O Fabric Module Specification: S130 Class
Wiring Closet, Distribution Layer, Small Network Core
Part Number
ST4106-0248-F6
Used in
S1A/S4/S6/S8 Chassis
Port Type
RJ45
Port Quantity
48
Port Speed
802.3af, 802.3at
Option Module Slots
1, (Type 2)
Module I/O Throughput
45Mpps
I/O Switching Capacity
60Gbps
Fabric Throughput (Each)
240Mpps
Fabric Throughput (Load Sharing Pair)
480Mpps
I/O Fabric Module Specification: S180 Class
Part Number
ST8206-0848-F8
SG8201-0848-F8
SK8008-1224-F8
SK8009-1224-F8
SL8013-1206-F8
Used in
S1A/S4/S6/S8 Chassis
S1A/S4/S6/S8 Chassis
S1A/S4/S6/S8 Chassis
S1A/S4/S6/S8 Chassis
S1A/S4/S6/S8 Chassis
Port Type
RJ45
SFP
SFP+
10GBase-T
QSFP+
Port Quantity
48
48
24
24
6
Port Speed
10/100/1000Gbps
1000Gbps
10Gbps
10Gbps
40Gbps
PoE Support
802.3af, 802.3at
-
-
-
-
Option Module Slots
2, (Type 2)
2, (Type 2)
Module I/O Throughput
120Mpps
120Mpps
240Mpps
240Mpps
240Mpps
I/O Switching Capacity
60Gbps
160Gbps
320Gbps
320Gbps
320Gbps
Fabric Throughput (Each)
960Mpps
960Mpps
960Mpps
960Mpps
960Mpps
Fabric Throughput (Load Sharing Pair)
1920Mpps
1920Mpps
1920Mpps
1920Mpps
1920Mpps
Specifications
Physical Specifications
Dimensions (H x W x D)
Rack Units
S8-Chassis
63.96 cm x 44.70 cm x 47.32 cm (25.19" x 17.60" x 18.63")
14.5U
S8-Chassis-POE4
72.87 cm x 44.70 cm x 47.32 cm (28.69" x 17.60" x 18.63")
16.5U
S8-Chassis-POE8
77.31 cm x 44.70 cm x 47.32 cm (30.44" x 17.60" x 18.63")
17.5U
S6-Chassis
88.70 cm x 44.70 cm x 47.35 cm (34.92" x 17.59" x 18.64")
20U
S8-Chassis-POE4
97.50 cm x 44.70 cm x 47.35 cm (38.39" x 17.59" x 18.64")
22U
S4-Chassis
40.00 cm x 44.70 cm x 47.32 cm (15.75" x 17.60" x 18.63")
9U
S4-Chassis-POE4
48.90 cm x 44.70 cm x 47.32 cm (19.25" x 17.60" x 18.63")
11U
S3-Chassis-A
31.11 cm x 44.70 cm x 47.32 cm (12.25" x 17.60" x 18.63")
7U
S3-Chassis-POEA
37.46 cm x 44.70 cm x 47.32 cm (14.75" x 17.60" x 18.63")
9U
S1-Chassis-A
8.69 cm x 44.88 cm x 60.27 cm (3.42" x 17.67" x 23.73")
2U
SSA S130 and S150 (S-Series Standalone)
4.44 cm x 44.70 cm x 59.43 cm (1.75" x 17.60" x 23.40")
1U
SSA S180 (S-Series Standalone)
4.37 cm x 44.73 cm x 57.30 cm (1.72" x 17.61" x 22.55")
1U
Power Supplies
Model number
Current Rating
Input Voltage
Input Frequency
Power Output (100-120v)
Power Output (208-240v)
S-AC-PS
20A
100-240 VAC
50-60Hz
1,200W
1,600W
S-AC-PS-15A
15A
100-240 VAC
50-60Hz
930W
1,600W
S-DC-PS
-
48-60 V DC
-
1,200W
1,200W
SSA-FB-AC-PS-A (I/O Exhaust)
15A
100-240 VAC
50-60Hz
480W
480W
SSA-FB-AC-PS-B (I/O Intake)
15A
100-240 VAC
50-60Hz
480W
480W
SSA-AC-PS-625W
15A
100-240 VAC
50-60Hz
625W
625W
SSA-AC-PS-1000W
15A
100-240 VAC
50-60Hz
1,000W
1,200W
POE (803.3af, 802.3at)
Model number
Current Rating
Input Voltage
Input Frequency
Power Output (100-120v)
Power Output (208-240v)
S-POE-PS
20A
100-240 VAC
50-60Hz
1,200W
2,000W
4 Bay POE Power
4,800W (max)
8,000W (max)
8 Bay POE Power
9,600W (max)
16,000W (max)
Environmental
Operating Temperature
5° C to 40° C (41° F to 104° F)
Storage Temperature
-30° C to 73° C (-22° F to 164° F)
Operating Relative Humidity
5% to 95% (non-condensing)
Agency Specifications
Safety
UL 60950-1, FDA 21 CFR 1040.10 and 1040.11, CAN/CSA C22.2, No. 60950-1, EN 60950-1, EN 60825-1, EN 60825-2, IEC 60950-1, 2006/95/EC (Low Voltage Directive)
Electromagnetic Compatibility
FCC 47 CFR Part 15 (Class A), ICES-003 (Class A), EN 55022 (Class A), EN 55024, EN 61000-3-2, EN 61000-3-3, AS/NZ CISPR-22 (Class A). VCCI V-3. CNS 13438 (BSMI), 2004/108/EC (EMC Directive)
Environmental
2002/95/EC (RoHS Directive), 2002/96/EC (WEEE Directive), Ministry of Information Order #39 (China RoHS)