PowerDsine 9001G

High Power, 802.3at Compliant, Single Port, Gigabit Midspan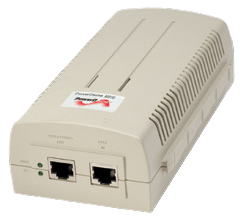 Sorry, this product is no longer available, please contact us for a replacement.
Overview:
The PowerDsine 9001G is a single port solution for remote powering of current and emerging high power applications.
Generating up to 30W, the 9001G enables remote power for a new range of applications including 802.11 access points, pant-tilt-zoom (PTZ) cameras and video phones. It complies to the IEEE 802.3at PoE standard and is backward compatible to IEEE 802.3af. It can power both existing 10/100Base-T network devices and the emerging wireless 1000Base-T devices such as WiMAX and IEEE 802.11n access points.
Up to 30W of power on 2 pairs
IEEE 802.3at compliant with 2-event classification
Cisco and legacy PoE support*
Plug-and-play installation
Guaranteed uptime
* Dongles required
Deployment: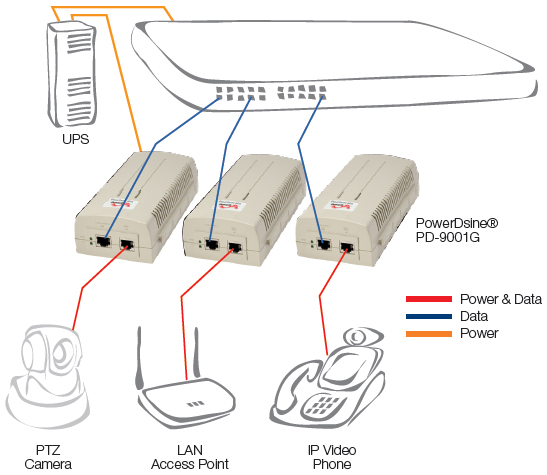 Specifications:
PD-9001G Specifications
No. of Ports
1
Pass Through Data Rates
10/100/1000 Mbps
Power over Ethernet Output
Pin Assignment and Polarity:
4/5 (+), 7/8 (–)
Output Power Voltage: 55Vdc
User Port Power: 30Watts
Input Power Requirements
AC Input Voltage: 100 to 240 Vac
AC Input Current: 0.8A @100-240Vac
AC Frequency: 50 to 60 Hz
Dimensions
87.9 mm (W) x 51.3 mm (H) x 166 mm (L)
3.46 in. x 2.0 in. x 6.53 in
Weight
.771 lbs (350g)
Indicator
System Indicator: AC Power (Green)
User Indicator: Channel Power (Green)
Connectors
Shielded RJ-45, EIA 568A and 568B
Environmental Conditions
Operating Ambient Temperature: 32º to 104ºF (0 to 40ºC)
Operating Humidity: Maximum 90%, Non-condensing
Storage Temperature: –4º to 158ºF (–20º to 70ºC)
Storage Humidity: Maximum 95%, Non-condensing
Operating Altitude: –1000 to 10,000 ft. (–304.8 to 3048 m)
Reliability
MTBF: 296,000 hrs. @25ºC
Thermal Rating
26 BTU/Hr
Warranty
1-year
Regulatory
IEEE 802.3af (PoE), RoHS Compliant, WEEE Compliant, CE
Electromagnetic Emission & Immunity
FCC Part 15, Class B
EN 55022 Class B (Emissions)
EN 55024 (Immunity), VCCI
Safety Approvals
UL/cUL Per IEC60950-1
GS Mark Per IEC60950-1