Extreme Networks K-Series

Cost-effective Flow-based Modular Edge Switches
The Extreme Networks K-Series is the most cost-effective flow-based switching solution in the industry. Providing exceptional levels of automation, visibility and control at the network edge, these flexible, modular switches significantly reduce operational costs while still offering premium features.
The K-Series is built upon the Extreme Networks CoreFlow2 custom ASIC. This cornerstone switching technology provides greater visibility into critical business applications and the ability to enable better controls to meet the Service Level Agreements (SLAs) demanded by the business.
Designed to address the challenges associated with a growing demand for access to new applications and services, the K-Series protects business traffic and supports changing operational needs. This includes the consumerization of IT and "bring your own device" programs that require more robust location, identification, visibility and overall management capabilities. The K-Series is uniquely suited to intelligently manage individual user, device and application conversations, as well as to provide the visibility and management to troubleshoot connectivity issues, locate devices, and ensure protection of corporate data.
Extreme Networks K-Series switches are available in the following form factors:
6-slot chassis offering up to a maximum of 144 triple-speed edge ports and 4 10Gb uplinks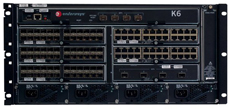 280 Gbps Switching Fabric Bandwidth
190 Mpps Switching Throughput
190 Mpps Routing Throughput
32,000 MAC Addresses
4,096 VLANs Supported
3.0GB Packet Buffering
10-slot chassis offering up to a maximum of 216 triple-speed edge ports and 8 10Gb ports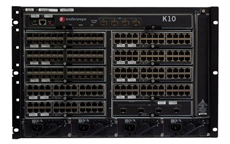 440 Gbps Switching Fabric Bandwidth
299 Mpps Switching Throughput
299 Mpps Routing Throughput
32,000 MAC Addresses
4,096 VLANs Supported
4.5GB Packet Buffering