Extreme Physical Packet Brokers

Scale with high-capacity network monitoring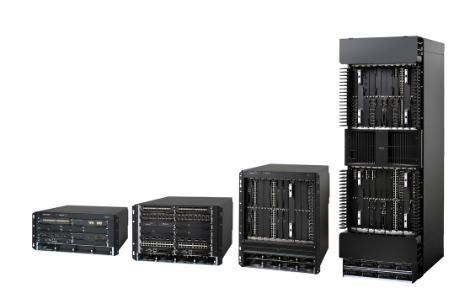 Click here to jump to more pricing!
Overview:
As network traffic continues on an exponential growth curve, service providers rely on a growing ecosystem of monitoring tools to effectively secure and manage their networks. But monitoring tools, like the networks they monitor, face significant scalability challenges that result in increased costs, higher operational complexity, and reduced productivity.

To manage escalating costs and enhance tool productivity, service providers need a scalable, programmable, and intelligent visibility infrastructure that can curate traffic in order to deliver relevant flows to each individual
Extreme MLXe Packet Brokers are NEBS Level 3-certified, highly scalable visibility nodes that aggregate, optimize, filter, and forward replicated traffic flows from the production network to network monitoring tools. They support API-based, dynamic programmability for real-time, on-demand traffic visibility and are ideally suited for the high-density monitoring requirements of the most demanding networks.
Features:
Flow Aggregation and Regeneration
Wire-speed 10 GbE, 40 GbE, and 100 GbE flow filtering and forwarding on ports in a single line card or across several line cards:
Map bidirectional (uplink and downlink) flows to the same network port
Replicate flows from any network port to any tool port on the same or different line cards
Aggregate flows from multiple 1 GbE, 10 GbE, or 40 GbE network ports to a single 10 GbE, 40 GbE, or 100 GbE tool port
Distribute flows from one 10 GbE, 40 GbE, or 100 GbE network port across multiple 1 GbE, 10 GbE, or 40 GbE tool ports
Selectively forward flows from 10 GbE, 40 GbE, and 100 GbE network ports to lower-speed tool ports
Mirror flows across tool ports
Dual, concurrent IPv4 and IPv6 stack support
Burst protection with buffering on network ports
Mobile (Layer 7) Flow Optimization
Stateful optimization of mobile bearer and control flows:
GTP correlation
Subscriber (IMSI) aware forwarding
Inter Radio Access Type (IRAT) transfer aware forwarding
Bearer flow deduplication (based on inner IP payload)
Automated mobile network topology learning
Flow Filtering
Flow selection and filtering configurable on a per-tool basis, based on:
Layer 2, 3, and 4 criteria (5-tuple)
Deep-packet (up to 128 bytes) pattern matching
GTP outer and inner headers
Packet length
International Mobile Subscriber Identity (IMSI)
VLAN tags
Load Balancing
Balance traffic load across multiple egress ports based on:
Round-robin packet distribution
IP hash
GTP TEID and payload (inner) IP address
International Mobile Subscriber Identity (IMSI)
Layer 2–4 Flow Optimization
Packet modification features for optimized flow delivery:
MPLS label and VLAN tag stripping
Port labeling
Packet slicing
Time stamping
Specifications:
Extreme MLXe Packet Brokers at a Glance

Capacity and Performance

MLXe-4

MLXe-8

MLXe-16

MLXe-32

Interface module slots

4

8

16

32

Switch fabric capacity

1.92 Tbps

3.84 Tbps

7.68 Tbps

15.36 Tbps

Packet forwarding performance

1.6 billion pps

2.38 billion pps

4.75 billion pps

9.5 billion pps

Ports

Maximum 1 GbE ports

80

160

320

640

Maximum 10 GbE ports

80

160

320

640

Maximum 40 GbE ports

16

32

64

128

Maximum 100 GbE ports

8

16

32

64

Redundancy

Management module redundancy

1:1

1:1

1:1

1:1

Switch fabric redundancy

N+1

N+1

N+1

N+1

Power supply redundancy

1+1

1+1

1+1

1+1

Power and Cooling

Maximum DC power consumption (W)

2,083

4,060

7,107

14,232

Maximum AC power consumption (W) (100 to 240 VAC)

2,083

4,060

7,107

14,232

Maximum thermaloutput (BTU/HR)

7,108

13,858

24,255

48,575

Airflow

Side to back

Side to back

Front to back

Front to back

Dimensions

Height (inches/centimeters/rack units)

8.71 in./22.12 cm/5U

12.21 in./31.01 cm/7U

24.50 in./62.16 cm/14U

57.75 in./146.69 cm/33U

Width (inches/centimeters)

17.20 in./43.69 cm

17.20 in./43.69 cm

17.20 in./43.69 cm

17.45 in./44.32 cm

Depth (inches/centimeters)

23.0 in./58.42 cm

24.0 in./60.96 cm 2

4.18 in./61.42 cm

26.88 in./68.28 cm

Weight (pounds/kilograms)

117 lb/53 kg

171 lb/78 kg

351 lb/159 kg

505 lb/229 kg
---