Extreme Networks C-Series

High-Power PoE Gigabit Ethernet Stackable Edge Switch with IPv6 routing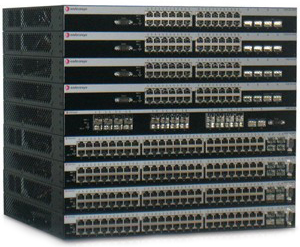 The Extreme Networks C5 is a scalable, high-performance Gigabit Ethernet switch offering support for IEEE 802.3at compliant high-power PoE, flexible 10 Gigabit Ethernet options, dynamic IPv4 and IPv6 routing and enhanced automation capabilities to provide for a future-proofed solution that significantly reduces operational expenses for customers.
Along with a switch capacity of 264 Gbps, the C5 provides up to 48 10/100/1000 Ethernet ports as well as two SFP+ ports, with the ability to support both 1GE and 10GE uplinks on the same port. Leveraging the C5's stacking capability, as many as 8 C5s (both 24-port and 48-port combinations) can be interconnected in a single stack to create a virtual switch that provides 2.11 Tbps of capacity and up to 384 10/100/1000 Ethernet ports as well as 16 10GE uplink ports.
All C-Series products include a comprehensive lifetime warranty that includes services for which many competitors charge additional fees. Included benefits, such as advanced hardware return, firmware feature upgrades (which most vendors cover at most for 90 days) and telephone support (which most don't include or severely limit) combine to significantly decrease operational costs for organizations – equaling savings of up to $1 million in service contract fees over the life of a customer's network.
Extreme Networks C5 stackable switches address emerging business application needs such as automatically supporting voice, video and unified communications at an attractive price point.
C-Series
24 Ports Gigabit Ethernet Stackable L2/L3/L4 Switch

(24) 10/100/1000 autosensing, auto-negotiating MDI/MDI-X RJ45 ports
(4) Combo SFP ports
(2) dedicated stacking ports
(1) DB9 console port
(1) RPS port
24 Ports Gigabit Ethernet and 2 Ports 1GE/10GE SFP+ Stackable L2/L3/L4 Switch

(24) 10/100/1000 auto-sensing, autonegotiating MDI/ MDI-X RJ45 ports
(2) Combo SFP ports
(2) SFP+ ports
(2) dedicated stacking ports
DB9 console port
(1) RPS port
48 Ports Gigabit Ethernet Stackable L2/L3/L4 Switch

(48) 10/100/1000 autosensing, auto-negotiating MDI/MDI-X RJ45 ports
(4) Combo SFP ports
(2) dedicated stacking ports
(1) DB9 console port
(1) RPS port
48 Ports Gigabit Ethernet and 2 Ports 1GE/10GE SFP+ Stackable L2/L3/L4 Switch

(48) 10/100/1000 auto-sensing, autonegotiating MDI/ MDI-X RJ45 ports
(2) Combo SFP ports
(2) SFP+ ports
(2) dedicated stacking ports
(1) DB9 console port
(1) RPS port