Altitude 4600 Series Access Points

Thin and adaptive access points for campus-wide deployments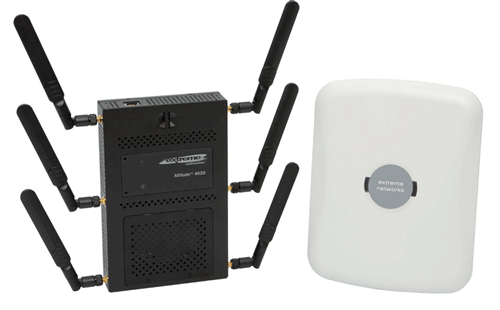 Sorry, this product is no longer available, please contact us for a replacement.
Overview:
Thin and adaptive access points for campus-wide deployments, distributed worksites and remote branch offices
Altitude™ Access Points (APs) come in form factors designed for a wide variety of deployment needs — high-density or high-interference zones, surface or hidden mounts, centralized or independent management. 802.3af Power over Ethernet (PoE) saves installation time and capital expenses by eliminating separate power and data ports/cables, and power injectors and wiring; PoE also frees installers from being forced to locate APs near a power outlet. Plug-and-play installation and remote control greatly reduce the time needed to bring services online. To help eliminate network bottlenecks and system latencies, traffic can be bridged locally at the AP or tunneled to the controller. Sensorless scanning automatically detects unauthorized sessions and rogue devices.
Multiple deployment and configuration options
802.3af Power over Ethernet (PoE) available
Plug-and-play installation and remote control
Specifications:
Thin Access Points
Altitude 4021i/e
Altitude 4022i/e
Altitude 4610/4611
Altitude 4620/4621
Typical Deployment
Low Cost, light density, campus
Low Cost, Central campus medium density & Indoor
Central campus medium density
Central campus medium density
Antenna*
4021i: Internal Integrated
4021e: Extrernal, not included, options available
4022i: Internal Integrated
4022e: External, not included, options available
Internal Integrated
External, included; options available
Transmit/Receive Method
2x2 MIMO; 2 Spatial Streams
2x2 MIMO; 2 Spatial Streams
2x3 MIMO; 2 Spatial Streams
2x3 MIMO; 2 Spatial Streams
Mounting
Ceiling, wall
Ceiling, wall
Ceiling, wall
Ceiling, wall, above-ceiling, behind-wall
Radios
Single
Dual
4610: Dual
4611: Single
4620: Dual
4621: Single
RF Bands
Dual band, band unlocked
Dual band, band unlocked
Dual band, band unlocked
Dual band, band unlocked
Ports
1 GE LAN/PoE Port
1 GE LAN/PoE Port
1 GE LAN/PoE Port
1 GE LAN/PoE Port
Options
External PSU
External PSU
4621: Power Supply
Adaptive Access Points
Altitude 4511
Altitude 4521i/e
Altitude 4522i/e
Altitude 4532i/e/ede
Altitude 4710/4750
Altitude 4762/4763
Typical Deployment
Indoor; school campuses, dormitories, apartment complexes, hotels, hospitals
Low Cost, light density, campus
Low Cost, light density, campus & Indoor
Central campus medium density
Indoor; central campus or survivable remote branch with 3G backhaul mesh services
Outdoor mesh deployments
Antenna*
Integrated
4521i: Integrated
4521e: External, separate; options available
4522i: Integrated
4522e: External, separate; options available
4532i: Integrated
4532e/ede: External, separate; options available
External, separate; options available
External, separate; options available
Transmit/Receive
2x2 MIMO; 2 spatial streams
2x2 MIMO; 2 spatial streams
2x2 MIMO; 2 spatial streams
2x3 MIMO; 2 spatial streams
3x3 MIMO; 2 spatial streams
3x3 MIMO; 2 spatial streams
Mounting
Wallplate, ceiling, wall, above-ceiling, behind wall
Ceiling, wall
4521e: also above-ceiling, behind-wall
Ceiling, wall
Ceiling, wall
4532e/ede: also above-ceiling, behind-wall
Ceiling, wall, above-ceiling, behind-wall
Wall or Pole mount
Radios
Single
Single
Dual
Dual
4710: Dual
4750: Tri, one dedicated as sensor
4762: Dual
4763: Tri
Ports, Slots
1 FE Lan/PoE Port
1 FE Keystone Port,
1 GE LAN/PoE Port
1 GE LAN/PoE Port
1 GE LAN/PoE Port
1 GE LAN/PoE Port
1 GE WAN Port
4710: also 1 PCI card slot
1 GE LAN/PoE Port
Other Options
3-port Snap-on Fast Ethernet Switch
Power Supply
External PSU
Power Supply
Access Points by Radio
Single Radio
Dual Radio
Tri Radio
Altitude 4021 AP
Altitude 4511 Wallplate AP
Altitude 4521 AP
Altitude 4611 AP
Altitude 4621 AP
Altitude 4022 AP
Altitude 4522 AP
Altitude 4532 AP
Altitude 4610 AP
Altitude 4620 AP
Altitude 4710 AP
Altitude 4762 AP
Altitude 4750 AP
Altitude 4763 AP