Extreme Networks AP122

2x2 802.11ac (Wifi5) Dual Radio Access Point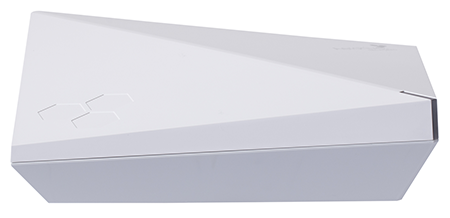 Sorry, this product is no longer available, Please contact us for a replacement.
Overview:
Enterprise-grade 2x2, 2-stream, 802.11n/ac access point for coverage oriented environments, as well as IoT and location-based services
AP122 provides dual 802.11n or 11n/ac performance with data rates up to 867 Mbps using existing 802.3af PoE infrastructure. Versatile and cost-effective, AP122 is optimally suited for coverage- oriented, low-to medium capacity environments.
Running powerful HiveOS coupled with innovative distributed Cooper - ative Control architecture, AP122 brings the best of coverage and ad - vanced 802.11ac technology. In addition, the integrated BLE radio and a USB interface in the access point opens up a multitude of deployment use-cases in IoT and proximity/location-oriented services.
Enterprise Connectivity
Built-in Bluetooth Low Energy for iBeacon/ other beacon technologies
IoT readiness with USB port
Trusted Platform Module (TPM) – Hardware-based key storage and encryption
Encryption: AES/CCMP, TKIP, and RC4 (WEP only)
Cloud Management
Network Device and Client Monitoring
Global Search and Filter function
Auto-Provisioning Tools for quick and easy deployment
Network Health View
Versatile RF Planning
Guided Network Configuration Setup
802.1X and PSK Secured Networks
Guest Access functionality with configurable Captive Web Portal
HiveCare Support
HiveCare Community Support: forum-based interactive support
HiveCare Connect CallBack service: optional
Wide array of online resources and tools
Features:
Resilient Connectivity for Demanding Environments
Distributed control Wi-Fi architecture delivers self-organizing, self-healing, and self-optimizing connectivity in the most challenging environments, eliminating single points of failure and bottlenecks, delivering bulletproof stability and unbridled performance, and offering unparalleled scale.
---
Contextualized Security and Performance Optimization
User, device, and application profiling at the edge of the network identifies and fine-tunes network access and performance based on role and privileges, ensuring secure, compliant, and high-performance wireless connectivity.
---
Cloud-Managed Assurance, Intelligence, and Simplicity
Managed by ExtremeCloud IQ, this device can be quickly and easily provisioned with advanced configurations, deliver granular user, device, and application reporting, and be supported from any location in minutes.
Specifications:
AP122 Specifications
Radio Specifications—802.11ac

5.150–5.850 GHz Operating Frequency
802.11ac Modulation (256-QAM)
Rates (Mbps): MCS0–MCS9 (6.5Mbps – 867 Mbps), NSS = 1-2.
2x2:2 Stream Multiple-In, Multiple-Out (MIMO) Radio
VHT20/VHT40/VHT80 support
TxBF ( Transmit Beamforming)

Radio Specifications—802.11n

2.4–2.5 GHz & 5.150–5.850 GHz Operating
802.11n Modulation
Rates (Mbps): MCS0 - MCS15 (6.5MBps - 300Mbps)
2x2 Multiple-In, Multiple-Out (MIMO) Radio

Radio Specifications—802.11g

2.4–2.5 GHz Operating Frequency
Orthogonal Frequency Division Multiplexing (OFDM) Modulation
Rates (Mbps): 54, 48, 36, 24, 18, 12, 9, 6 w/ auto fallback

Radio Specifications—802.11b

2.4–2.5 GHz Operating Frequency
Direct-Sequence Spread-Spectrum (DSSS) Modulation
Rates (Mbps): 11, 5.5, 2, 1 w/ auto fallback

Radio Specifications—802.11a

5.150–5.850 GHz Operating Frequency
Orthogonal Frequency Division Multiplexing (OFDM) Modulation
Rates (Mbps): 54, 48, 36, 24, 18, 12, 9, 6 w/ auto fallback

Antennas

2x Integrated single band, 2.4-2.5 GHz Omni- directional antennas
2x Integrated single band, 5.1-5.8 GHz Omni- directional antennas
1 x BLE internal antenna

Interfaces

Autosensing 10/100/1000 Base-T Ethernet PoE (Power over Ethernet 802.3af) Port
RJ-45 console port
Standard USB port

Physical

LxWxH 171X171X44.5 mm (6.75x6.75x1.75in). w/o mounting brackets
Weight: 1.13 lb (0.51 kg)

Environmental

Operating: 0 to +40°C, Storage: -40 to +70°C
Humidity: 95%

Environmental Compliance Power Specifications Power Options

Power Draw: Typical 10.5W, Max 12.9W
802.3af / 802.3at (PoE/PoE+)

Mounting

Desktop
Wall Mount
Ceiling Tile flush 15/16"
Ceiling Tile Recessed 15/16", 3/8", 9/16" sold as an accessory
Ceiling Tile Flush 3/8", 9/16" sold as an accessory

Suspend Mount sold as an accessory