Extreme Networks A-Series

Fast Ethernet Stackable L2 Switch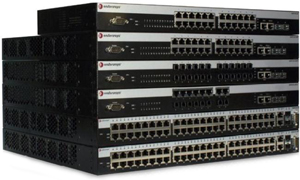 The Extreme Networks A4 is a highly reliable fast Ethernet edge switch that provides scalable, wire-rate performance in support of the bandwidth-intensive and delay-sensitive requirements of today's demanding applications. The A4 also provides multi-layer packet classification and priority queuing for differentiated services. Along with a switch capacity of 17.6 Gbps, the A4 provides up to 48 10/100 Ethernet ports as well as 4 Gigabit Ethernet uplink ports. Leveraging the A4's stacking capability, as many as 8 A4s can be interconnected in a single stack to create a virtual switch that provides 140.8 Gbps of capacity and up to 384 10/100 Ethernet ports as well as 16 Gigabit Ethernet uplink ports.
The A4 includes enterprise-class features in a 10/100 stackable switch that ensure seamless connectivity and application performance. With support for 16,000 MAC addresses, the A4 is an excellent choice for medium to large enterprises that need to support thousands of endpoints. Robust Quality of Service (QoS) features enable strong support for integrated multimedia networks, including Voice over IP (VoIP) and IP video, as well as all types of data-intensive applications. In conjunction with its non-blocking L2 switching architecture, the A4's intelligent queuing mechanisms ensure that mission-critical applications receive prioritized access to network resources.
The A4 includes a 24 port model with a very quiet design that operates fan-less in a typical office setting, making it ideal for classrooms and conference rooms.
A highly-scalable architecture and a lifetime warranty ensure that an A4 network investment will sustain a secure, feature-rich, and cost-effective network well into the future.
8 Ports Fiber Optic plus 8 Ports Stackable L2/L3 Edge Switch

(8) 10/100BASE-T RJ45 ports
(8) 100Base-FX MT-RJ ports
(2) Gigabit Ethernet SFP ports
(2) 10/100/1000 stacking/uplink RJ45 ports
(1) DB9 console port
(1) RPS port
24 Ports Stackable L2/L3 Edge Switch

(24) 10/100 auto-sensing, auto-negotiating MDI/MDI-X RJ45 ports
(2) SFP ports
(2) Gigabit stacking/uplink Rj45 ports
(1) DB9 console port
(1) RPS port
24 Ports Fiber Optic Stackable L2/L3 Edge Switch

(24) 100Base-FX MTRJ fiber optic ports
(2) mini-GBIC ports
(2) 10/100/1000 stacking/uplink RJ45 ports
(1) DB9 console port
(1) RPS port
48 Ports Stackable L2/L3 Edge Switch

(48) 10/100 auto-sensing, auto-negotiating MDI/MDI-X RJ45 ports 
(2) SFP ports 
(2) Gigabit stacking/uplink Rj45 ports 
(1) DB9 console port 
(1) RPS port