Extreme Networks 7100 Series

High Density 10 Gigabit Ethernet Data Center Switch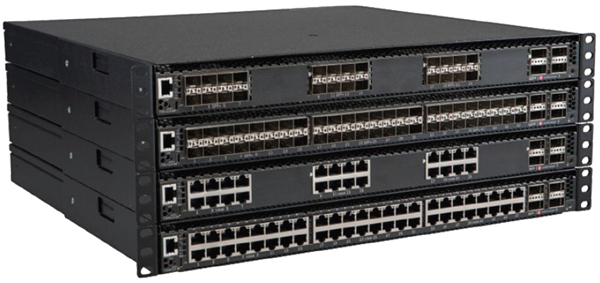 Sorry, this product is no longer available, please contact us for a replacement.
Overview:
The Extreme Networks 7100-Series is a family of high density, high-performance 1 Gigabit and 10 Gigabit Ethernet switches that are ideally suited for the demands of today's Enterprise data center and high performance LAN Edge applications. The 7100-Series is an ideal fit for support of the high bandwidth applications in today's Enterprise networks.
The 7100-Series offers flexible connectivity options using modular SFP, SFP+ transceivers and Direct Attach Cables as well as options for integrated Gigabit copper and 10GBASE-T. Also supported are 10/100Mb, Gigabit, 10 Gigabit, and 40 Gigabit ports. Up to 64 line rate 10 Gigabit Ethernet ports can be supported in a single rack unit configuration, maximizing the space available for servers and storage in dense data center Top of Rack (ToR) applications. Configurable air flow allows for adaptation to the specific hot-aisle / cold-aisle configuration of your data center.
The 7100-Series 10 Gigabit Ethernet switches are available in the following configurations:
7148 - 48 ports 1/10Gb SFP+ with 4 10/40Gb QSFP+ ports
7124 - 24 ports 1/10Gb SFP+ with 4 10/40Gb QSFP+ ports
7148T - 48 ports 1/10GBASE-T with 4 10/40Gb QSFP+ ports
7124T - 24 ports 1/10GBASE-T with 4 10/40Gb QSFP+ ports
All systems support redundant modular power supplies and fan modules and Extreme Networks Virtual Switch Bonding to configure highly available system configurations for mission critical data center environments.
The 7100-Series is an integral element of the Extreme Networks OneFabric network architecture. OneFabric is designed to help enterprises maintain an integrated end user experience while migrating towards a virtualized network environment.
Virtualization awareness addresses the need for visibility and awareness as virtual servers get deployed and adapt to Virtual Machine mobility. Data Center Bridging effectively supports the convergence of LAN I/O and storage traffic in the data center fabric. High performance virtual switching increases the available bandwidth in the data center and enables resilient network topologies to servers and aggregation switches. Higher aggregated capacity enables data centers to effectively scale with lower latency and higher levels of availability.
Management integration and automation enables a high degree of visibility and control of critical data center resources, providing a consistent edge-to-core network implementation. Bandwidth and priority policies can be centrally provisioned, delivering a consistent implementation across the network.
Key Features
Versatile high performance data center solution
Line rate 1.28 Tbps throughput with 952 Mpps packet forwarding
Automated network provisioning for the virtualized data center
Flexible connectivity options for 10 Gigabit and 40 Gigabit Ethernet
Benefits:
Business alignment
Standards-based Terabit architecture to support secure, reliable deployment of business-critical applications
Flexible, high-speed connectivity support for 1, 10, and 40Gbps Ethernet to scale with growth in your data center
Advanced functionalities such as Data Center Bridging (DCB) and Virtual Switch Bonding (VSB) for optimized data center growth
Operational efficiency
Unique mix of fiber and copper ports on the same chassis reduces equipment, management, and support costs
Integral element of Extreme Networks' OneFabric edge-to-edge network architecture reduces deployment and maintenance costs
High-density, small form system provides up to 64 wire speed 10Gb ports in a single rack unit, significantly reducing footprint costs
Management automation and built-in resiliency reduce total cost of ownership
Virtual Machine (VM) mobility tracking across multiple systems with dynamic policy
Automatically identifies and provisions devices and services, reducing IT deployment time
Security
Reduces risk and simplifies network administration with integrated security
Support and service
Industry-leading customer satisfaction and first-call resolution rates
Features/Standards and Protocols
Switching/VLAN Service

802.3ab Gigabit Ethernet (copper)
802.3z Gigabit Ethernet (fiber)
802.3ae 10 Gigabit Ethernet (fiber)
802.3an 10GBASE-T (copper)
802.3ba 40 Gigabit Ethernet
802.1Q VLANs
802.1D MAC Bridges
802.1w Rapid re-convergence of Spanning Tree
802.1s Multiple Spanning Tree - up to 16 instances
802.1t – Path Cost Amendment to 802.1D
802.1AX-2008 LACP

802.3ad Link Aggregation
up to 64 groups with up to 8 ports in a group

Loop Protect
802.3x Flow Control
Jumbo Packet (9216 bytes)
RFC 1191 Path MTU Discovery
Link Flap Detection
Dynamic Egress (Automated VLAN Port Configuration)
IGMP v1/v2/v3
IGMP snooping
IGMP querier
IPv6 Multicast Listener Discovery (MLDv1/v2)
MLD snooping
MLD querier
GARP VLAN Registration Protocol (GVRP)
802.1ak Multiple VLAN Registration Protocol (MVRP/MRP)
Provider Bridges (IEEE 802.1ad) Ready

Data Center Bridging

802.1Qaz
Enhanced Transmission Selection (ETS )

Data Center Bridge Exchange Protocol (DCBx )
Application Priority

802.1Qbb Priority Flow Control (PFC)
802.1Qau Congestion Notification (CN)

QOS

Strict Priority Queuing
Weighted Round Robin
8 Transmit Queues per Port
ToS/DSCP Marking/Remarking
802.1p – Class of Service
802.1D Priority-to-Transmit Queue Mapping
Ingress rate limiting
Transmit queue shaping

Security

802.1X Port-based Authentication
Port Web-based Authentication (PWA)
MAC-based Authentication
Extreme Networks dynamic policy
Convergence Endpoint (CEP) Discovery with Dynamic Policy
Mapping (Siemens HFA, Cisco VoIP, H.323, and SIP)
Multiple Authentication Types per Port Simultaneously
Multiple Authenticated users per Port with unique policies per user/End System (VLAN association independent)
RFC 3580 IEEE 802.1 RADIUS Usage Guidelines, with VLAN to Policy Mapping
Broadcast Suppression
RADIUS snooping
MAC-to-Port Locking - static and dynamic
Span Guard (Spanning Tree Protection)
Host CPU Denial of Service (DoS) protection
MSCHAP RADIUS authentication
IPsec RADIUS connection
802.1AE MACsec Hardware Capable

High Availability

Virtual Switch Bonding (VSB) for up to two systems with 40Gb links
High Availability Firmware Upgrade (HAU)
Redundant hot swappable fan modules
Redundant hot swappable power supplies

Extreme Network Management

NMS Console
NMS Policy Manager
NMS Inventory Manager
NMS Automated Security Manager
NMS NAC Manager
Data Center Manager (DCM)

Network Management

SNMP v1/v2c/v3
WebView Management Interface
Industry Common Command Line Interface
Configurable Login Banner
Dual IPv4/IPv6 Management Support
Multiple local user account management
Multiple Software Image Support with Revision Roll Back
Multi-configuration File Support
Editable Text-based Configuration File
COM Port Boot Prom and Image Download
Telnet Server and Client
Secure Shell (SSHv1/v2) Server and Client
Cabletron Discovery Protocol
Cisco Discovery Protocol v1/v2
802.1ab LLDP, LLDP-MED
802.3-2008 Clause 57 (Ethernet OAM – Link Layer OAM)
Port Mirroring – one to one, many to one, one to many
Unidirectional Link Detection (ULD)
Syslog
Audit Trail Logging
FTP/TFTP Client
Secure Copy Protocol (SCP)
RFC 2030 Simple Network Time Protocol (SNTP)
RFC 2865 RADIUS
RFC 2866 RADIUS Accounting
TACACS+
Management VLAN
RMON – Statistic, History, Alarms, Events
RFC 2613 SMON
DHCP server
Environmental Monitoring

Standard MIB Support

RFC 1156/1213 & RFC 2011 IP-MIB
RFC 1493 Bridge MIB
RFC 1659 RS-232 MIB
RFC 2578 SNMPv2 SMI
RFC 2579 SNMPv2-TC
RFC 3417 SNMPv2-TM
RFC 3418 SNMPv2 MIB
RFC 2012 TCP MIB
RFC 2013 UDP MIB
RFC 3411 SNMP Framework MIB
RFC 3412 SNMP-MPD MIB
RFC 3413 SNMPv3 Applications
RFC 3414 SNMP User-Based SM MIB
RFC 2276 SNMP-Community MIB
RFC 2613 SMON MIB
RFC 2674 802.1p/q MIB
RFC 2737 Entity MIB
RFC 2819 RMON MIB (Groups 1-9)
RFC 3273 HC RMON MIB
RFC 2863 IF MIB
RFC 2864 IF Inverted Stack MIB
RFC 2922 Physical Topology MIB
RFC 3291 INET Address MIB
RFC 3415 SNMP View Based ACM MIB
RFC 3635 EtherLike MIB
RFC 3636 MAU MIB
RFC 4022 MIB for the Transmission Control Protocol (TCP)
RFC 4113 MIB for the User Datagram Protocol (UDP)
RFC 4293 MIB for Internet Protocol (IP)
IEEE 8023 LAG MIB
RSTP MIB
USM Target Tag MIB
U Bridge MIB
SNMP-REARCH MIB
IANA-address-family-numbers MIB
IEEE 802.1PAE MIB
Specifications:
7148
7124
7148T
7124T
Performance
Switching Throughput Mpps
952Mpps
595Mpps
952Mpps
595Mpps
Switching Capacity
1.28Tbps
800Gbps
1.28Tbps
800Gbps
Max 10Gb Ethernet Ports
64
40
64
40
MAC Address Table
128K
128K
128K
128K
VLANs Supported
4,094
4,094
4,094
4,094
Packet Buffers
9MB
9MB
9MB
9MB
Physical Specifications
Dimensions (H x W x D), Rack Units
1 Rack Unit high
4.37 cm H x 44.73 cm W x 43.40 cm D
1.72" H x 17.61" W x 17.086" D
1 Rack Unit high
4.37 cm H x 44.73 cm W x 43.40 cm D
1.72" H x 17.61" W x 17.086" D
1 Rack Unit high
4.37 cm H x 44.73 cm W x 43.40 cm D
1.72" H x 17.61" W x 17.086" D
1 Rack Unit high
4.37 cm H x 44.73 cm W x 43.40 cm D
1.72" H x 17.61" W x 17.086" D
Net Weight
7.12 kg (15.7 lb)
7.12 kg (15.7 lb)
7.12 kg (15.7 lb)
7.12 kg (15.7 lb)
Physical Ports
(48) 1Gb/10Gb SFP+ ports
(4) 10Gb/40Gb QSFP+ ports
(1) Console port
(1) Micro-USB port
(24) 1Gb/10Gb SFP+ ports
(4) 10Gb/40Gb QSFP+ ports
(1) Console port
(1) Micro-USB port
(48) 1Gb/10Gb 10GBASE-T ports
(4) 10Gb/40Gb QSFP+ ports
(1) Console port
(1) Micro-USB port
(24) 1Gb/10Gb 10GBASE-T ports
(4) 10Gb/40Gb QSFP+ ports
(1) Console port
(1) Micro-USB port
Power
Power Supplies
Up to two load-sharing redundant 474W power supplies
Up to two load-sharing redundant 474W power supplies
Up to two load-sharing redundant 474W power supplies
Up to two load-sharing redundant 474W power supplies
Normal Input Voltage
100-240 VAC
100-240 VAC
100-240 VAC
100-240 VAC
Input Frequency
50-60Hz
50-60Hz
50-60Hz
50-60Hz
Max Power Consumption
174W
138W
318W
206W
Environmental
Operating Temperature
5° C to 40° C
(41° F to 104° F)
5° C to 40° C
(41° F to 104° F)
5° C to 40° C
(41° F to 104° F)
5° C to 40° C
(41° F to 104° F)
Non-Operating Temperature
-30° C to 73° C
(-22° F to 164° F)
-30° C to 73° C
(-22° F to 164° F)
-30° C to 73° C
(-22° F to 164° F)
-30° C to 73° C
(-22° F to 164° F)
Operating Relative Humidity
5% to 95%
(non-condensing)
5% to 95%
(non-condensing)
5% to 95%
(non-condensing)
5% to 95%
(non-condensing)
Agency Specifications
Safety
UL 60950-1, FDA 21 CFR 1040.10 and 1040.11, CAN/CSA C22.2, No. 60950-1, EN 60950-1, EN 60825-1, EN 60825-2, IEC 60950-1, 2006/95/EC (Low-Voltage Directive)
Electromagnetic Compatibility
FCC 47 CFR Part 15 (Class A), ICES-003 (Class A), EN 55022 (Class A), EN 55024, EN 61000-3-2, EN 61000-3-3, AS/NZ CISPR-22 (Class A). VCCI V-3. CNS 13438 (BSMI), 2004/108/EC (EMC Directive)
Environmental
2002/95/EC (RoHS Directive), 2002/96/EC (WEEE Directive), Ministry of Information Order #39 (China RoHS)