Extreme Networks 800-Series 08G20G4-24

24 port 10/100/1000 Layer 2 Switch with Four SFP Uplinks

Sorry, this product is no longer available, please contact us for a replacement.
Overview: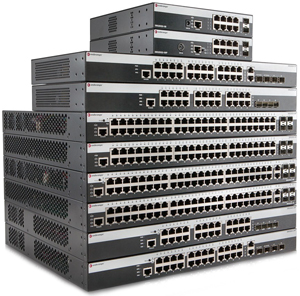 The Extreme Networks 800-Series is a highly reliable Fast Ethernet and Gigabit Ethernet family of edge switches that provides scalable, wire-rate performance in support of the bandwidth-intensive and delay-sensitive requirements of today's demanding applications.
Fully featured 10/100 and 10/100/1000 edge connectivity solution
Line rate L2 switching
IEEE 802.3at high power PoE options
Optional redundant power for all models
Extreme Networks award-winning Lifetime Warranty support
Up to eight switches can be interconnected to form a single managed entity thereby creating a virtual switch that can be managed with a single IP address to help minimize management re-quirements. An integral power supply is the primary source of power for all 800-Series switches and complete power redundancy is provided by optional external power supplies.
All PoE switches support IEEE 802.3at which allows up to 30 watts of PoE power to be provided to a single port. Dynamic power allocation is supported which allows unused allocated PoE pow-er to be returned to the central pool for use on other ports. Up to 375 watts of PoE power are available on the 24 port and 48 port PoE models.
End users can be authorized via IEEE 802.1X, MAC address or web-based authentication. Class of service, bandwidth control and Access Control Lists( ACLs) are standard features on all switches.
Most models have fans (the 24 port 10/100 switch is fan-less) but the fans on most of the non-PoE models do not run unless the temperature exceeds 36°C thereby providing quiet operation. There is also built in temperature monitoring that provides high temperature alerts to the end user so that the optimal operating environment can be maintained.
800-Series switches can be managed via a Command Line Interface (CLI) , an excellent web interface or via NetSight, Extreme Networks' advanced management application.
The 800-Series carries an industry-leading Lifetime Warranty which provides next day shipment, telephone support for one year, bug fixes, firmware upgrades and web-based support or five years after the product goes end of sale.
Benefits:
Business Alignment
Cost-effective and reliable edge connectivity
Operational Efficiency
Consolidated management capabilities
Fully featured CLI, web-based, TACACS+ or NetSight management enabling ease of management thereby lowering Total Cost of Ownership (TCO)
Security
Network access secured by 802.1x, MAC address and web-based authentication methods
Support and Service
Industry leading customer satisfaction and first call resolution rates.
Comprehensive lifetime warranty, including feature upgrades and more
Standards and Protocols:
MAC Address Table Size

VLANs

4,094 VLAN IDs
Up to 4094 Static VLANs
Up to 255 Dynamic VLANs

Switching Services

IEEE 802.1AB – LLDP
ANSI/TIA-1057 – LLDP-MED
IEEE 802.1D – MAC Bridges
IEEE 802.1s – Multiple Spanning Trees
IEEE 802.1t – 802.1D Maintenance
IEEE 802.1w – Rapid Spanning Tree
IEEE 802.3 – Ethernet
IEEE 802.3ab – GE over Twisted Pair
IEEE 802.3ad – Link Aggregation

8 ports per group
8-port models: 5 groups

IEEE 802.3af – PoE
IEEE 802.3at – High Power PoE (up to 30W per port)
IEEE 802.3i – 10Base-T
IEEE 802.3u – 100Base-T, 100Base-FX
IEEE 802.3z – GE over Fiber
Full/half duplex auto-sense support on all ports (Auto-MDIX)
ERPS—Ethernet Ring Protection Switching
L2 Multicast Control
IGMP Snooping v1/v2/v3
MLD Snooping
Jumbo Frame support (12,288 bytes)
Loop Protection
One-to-One and Many-to-One Port Mirroring
Port Description
STP Pass-Thru

Security

ARP Spoof Protection
DHCP Spoof Protection
EAP Pass Thru
IP Source Guard
IEEE 802.1X Port Authentication
MAC-based Port Authentication
Optional Local Database for Authentication
RADIUS Accounting for network access
RFC 3580 – IEEE 802.1X RADIUS Usage Guide-lines
Secured Shell (SSHv2)
Secured Socket Layer (SSL)
Trusted Host
Denial of Service (DoS) Attack Prevention
BPDU Attack Protection
Multi-user Authentication Per Port
Web-based Port Authentication

Routing

IPv4 Static Routes
IPv6 Default Routing

MIB Support

ANSI/TIA-1057 – LLDP-MED MIB
IEEE 802.1AB – LLDP MIB
IEEE 802.1X MIB – Port Access
IEEE 802.3ad MIB – LAG MIB
RFC 1213 – MIB/MIB II
RFC 1493, RFC 4188 – BRIDGE-MIB
RFC 1643 – Ethernet-like MIB
RFC 2571-2576 – SNMP Framework MIB
RFC 2618 – RADIUS Authentication Client MIB
RFC 2620 – RADIUS Accounting Client MIB
RFC 2674, RFC 4363 – 802.1p MIB
RFC 2674 – QBRIDGE-MIB VLAN Bridge MIB
RFC 2737 – Entity MIB (physical branch only)
RFC 2819 – RMON-MIB
RFC 2863 – IfMIB
RFC 2925—Ping & Traceroute MIB
RFC 3413 – SNMP v3 Applications MIB
RFC 3414 – SNMP v3 User-based Security Module (USM) MIB
RFC 3415 – View-based Access Control Model for SNMP
RFC 3584 – SNMP Community MIB
RFC 3636 MAU MIB — Obsoletes RFC 2668
RFC 4022— MIB for TCP
RFC 4113—MIB for UDP

VLAN Support

Generic Attribute Registration Protocol (GARP)
Generic VLAN Registration Protocol (GVRP)
IEEE 802.1p – Traffic classification
IEEE 802.1q – VLAN Tagging/Trunking
Port-based VLAN
MAC-based VLAN
Private VLAN
VLAN Trunking
Tagged-based VLAN

Quality of Service

8 Priority Queues per Port
802.3x Flow Control
Class of Service (CoS)
Rate Limiting/Bandwidth Control
Layer 2/3 Classification
Multi-layer Packet Processing with ACLs
Mixed Queuing Control – Strict and
Weighted Round Robin
Source/Destination MAC Address with ACLs
Source/Destination IP address with ACLs
TCP/UDP port number with ACLs

Management & Other RFCs

Command Line Interface (CLI) with four access levels
Configuration Upload/Download
Firmware Download
Dual IPv4/IPv6 Management Support
Editable Text-based Configuration File
TFTP Client
Command Logging
Multi-configuration File Support
System Power & Port Status LEDs
NMS Console
NMS Inventory Manager
Cable Diagnostics
Traceroute
Network Load Balancing
Operation, Administration & Maintenance -(OAM) support
RMON (Stats, History, Alarms, Events)
Simple Network Management Protocol
(SNMP) v1/v2c/v3
SSHv2
TACACS+ authentication
Web-based Management
SYSLOG—up to 4 servers supported
Authentication, Authorization and Accounting (AAA) management
RFC 768 – UDP
RFC 783 – TFTP
RFC 791 – IP
RFC 792 – ICMP
RFC 793 – TCP
RFC 826 – ARP and ARP Redirect
RFC 854 – Telnet
RFC 951, RFC 1542 – DHCP/BOOTP Relay
RFC 1157 – SNMP
RFC 1901 – Community-based SNMPv2
RFC 1981 – Path MTU for IPv6
RFC 2030 – Simple Network Time Protocol (SNTP)
RFC 2131, RFC 3046 – DHCP Client/Relay
RFC 2465 – IPv6 MIB
RFC 2933 – IGMP MIB
RFC 3176 – sFlow
RFC 3413 – SNMP Applications MIB
RFC 3414 – SNMP User-based Security Module (USM) MIB
RFC 3415 – View-based Access Control Model for SNMP
Specifications:


A-Series Models
08G20G4-24
08G20G4-24P
08G20G4-48
08G20G4-48P
Performance
Switching Throughput Mpps
41.7 Mpps
41.7 Mpps
77.4 Mpps
77.4 Mpps
Switching Capacity
56 Gbps
56 Gbps
104 Gbps
104 Gbps
MAC Address Table
16K
16K
16K
16K
VLANs Supported
255
255
255
255
PoE Specifications
802.3af Interoperable
N/A
Yes
N/A
Yes
802.3at Interoperable
N/A
Yes
N/A
Yes
System Power
N/A
375 watts per switch with up to 30 watts per port
Per-port switch power monitor:

Enable/disable
Priority safety
Overload & short circuit protection

N/A
375 watts per switch with up to 30 watts per port
Per-port switch power monitor:

Enable/disable
Priority safety
Overload & short circuit protection

Physical Specifications
Dimensions (H x W x D), Rack Units
1.73" H x 17.36" W x 8.125" D, 1U
1.73" H x 17.36" W x 14.51" D, 1U
1.73" H x 17.36" W x 14.51" D, 1U
1.73" H x 17.36" W x 14.51" D, 1U
Net Weight
2.35 kg (5.20 lb)
5.54 kg (12.2 lb)
4.50 kg (9.90 lb)
6.14 kg (13.5 lb)
MTBF
532,023 hours
275,199 hours
369,938 hours
225,591 hours
Physical Ports
• (24) 10/100/1000 ports
• (4) 1Gb SFP ports
• (1) Console port
• Max: 28 active ports
• (24) 10/100/1000 PoE ports
• (4) 1Gb SFP ports
• (1) Console port
• Max: 28 active ports
• (48) 10/100/1000 ports
• (4) 1Gb SFP ports
• (1) Console port
• Max: 52 active ports
• (48) 10/100/1000 PoE ports
• (4) 1Gb SFP ports
• (1) Console port
• Max: 52 active ports
Power
Power Supplies
1 Internal, 1 optional RPS
1 Internal, 1 optional RPS
1 Internal, 1 optional RPS
1 Internal, 1 optional RPS
Normal Input Voltage
100 - 240 VAC
100 - 240 VAC
100 - 240 VAC
100 - 240 VAC
Input Frequency
50 - 60 Hz
50 - 60 Hz
50 - 60 Hz
50 - 60 Hz
Input Current
0.8A max
7.65A max
1.2A max
7.65A max
Power Consumption
30.0 W
36.4 W
56.1 W
63.1 W
Environmental Specifications
Operating Temperature
0° to 50° C (32° to 122° F)
Non-Operating Temperature
-40° to 70° C (-40° to 158° F)
Heat Dissipation
100 BTUs/Hr
124 BTUs/Hr
190 BTUs/Hr
215BTUs/Hr
Operating Relative Humidity
5% to 95% (non-condensing)
Acoustics
Fan Off: 0dB
Fan On: 44dB
Fan Low Speed: 38dB
Fan High Speed: 50dB
Fan Low Speed: 37dB
Fan High Speed: 42dB
Fan Low Speed: 38dB
Fan High Speed: 51dB
Agency Specifications
Vibration
IEC 68-2-6, IEC68-2-36
Shock
IEC 68-2-29
Drop
IEC 68-2-32
Altitude - operating
Operational up to 2,000 m 6,561 feet
Safety
UL 60950-1, FDA 21 CFR 1040.10 and 1040.11, CAN/CSA C22.2, No. 60950-1, EN 60950-1, EN 60825-1, EN 60825-2, IEC 60950-1, 2006/95/EC (Low Voltage Directive)
EMC
FCC 47 CFR Part 15 (Class A), ICES-003 (Class A), EN 55022 (Class A), EN 55024, EN 61000-3-2, EN 61000-3-3, AS/NZ CISPR-22 (Class A). VCCI V-3. CNS 13438 (BSMI), 2004/108/EC (EMC Directive)
Environmental
2002/95/EC (RoHS Directive), 2002/96/EC (WEEE Directive), Ministry of Information Order #39 (China RoHS)